Simi Rezai-Ghassemi is a double graduate from our School of Management, with a degree in business administration (1997) and a PhD in the evolution of entrepreneurship (2004). She's also the founder of Simi's Kitchen, a supper club and cookery school on Bath's Great Pulteney Street. It combines her business know-how with her love of teaching and passion for cooking, especially dishes from her homeland, Iran.
"As children we were encouraged to play, then when we got older to study," Simi tells us. "I came to cooking in my thirties when I'd completed my PhD. I love research so I treated it almost like a new degree and taught myself."
Simi devoured the history, terrain, and culture of different countries through learning what they eat. "Take Italian food," she says, "they have pasture in the north, because they're on the Swiss border, so they cook with lots of butter. In the south, the land is dry, so they grow olives and use olive oil. That's the beauty of food: it's the best souvenir from our travels."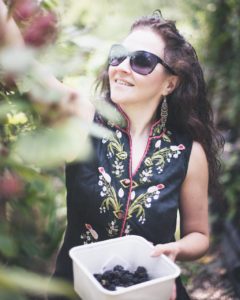 From Azerbaijan to Bath
Born in Azerbaijan along the Silk Route, Simi and her family first came to the UK to study, later returning while her father was on sabbatical. But when her parents returned to Iran, 17-year-old Simi stayed in the UK with her younger sister.
"The war in Iran got worse, sanctions came into place and they couldn't send money, so I worked to support my sister through her education. When she graduated, I was then able to study. Bath's business degree was perfect because I was able to undertake two placements to cover my living expenses."
"The course was so diverse – I met people from all over the world who I'm still friends with now. It taught me to be open to new ideas, people, and ways of doing things," she adds. "I also learned how to run a sustainable business by first doing the groundwork and creating a thoroughly researched business plan.  This was helpful in identifying the gaps in the market and enabling me to find my USP."
Student life in the '90s
As a Bath student in the mid-'90s, Simi recalls toga parties, yoga and craft classes. "It was all very civilised," she laughs. "We didn't have The Edge [the arts hub on campus], but the University provided courses in the city centre in things like pottery and stained-glass courses."
Simi also brought a flavour of Persia to Bath by becoming a founding member of the '1001 Nights' society, which celebrated the cultures of the eastern Mediterranean. "People who have been at the University a long time will remember it – it was a thing of glory!" she smiles. "We'd transform a room on campus into an Arabic tent and fashion costumes, put on shows and make huge buffets."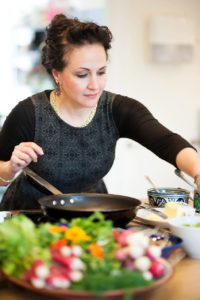 Setting up Simi's Kitchen
In 2009 she established her business, Simi's Kitchen, after teaching a friend to cook Iranian dishes. "I'm someone who likes to share – whether that's food, knowledge or experiences – and I realised that I could combine them by hosting supper clubs and teaching cookery. I made a website and people started coming."
While Simi's degree stood her in good stead for entrepreneurship, her PhD taught her about the importance of adapting. "My research was based on the theory of evolution and applying that to business," she explains. "I knew full well that if you do not adapt to your surroundings then you will not survive.
"It's been the businesses that have adapted that have been able to come through the pandemic. In my case I was a cookery teacher, but now I have a successful supper club offering and I have started catering too."
Her advice to any budding business owners? "It's all about people – suppliers, customers and colleagues. Reach out to those in the industry and make lasting relationships," says Simi. "The friendships I've made since starting Simi's Kitchen are very important to me. We support each other and have great food and drink in our gatherings."
Images by KMS Photo.