Mark works for Transport for London as a Railway Signalling Systems Engineer, modernising some of the oldest parts of the London Underground. He shares his experiences of virtual train simulations, enjoying the beauty of campus and meeting his wife during Freshers' Week...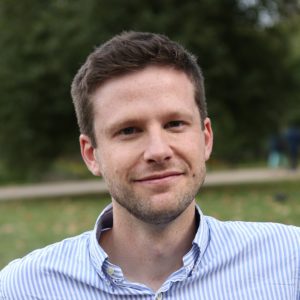 Why did you choose to study at Bath?
I was torn between Bath and Loughborough University but ultimately chose Bath because the city and surrounding countryside are among the best anywhere in the UK.
Also, on my open day the students leading the tour were so passionate about the University and the course that I could imagine myself studying there. It's also worth mentioning that both my parents also studied at the University and met there some 30 years ago!
Did you have a particular career in mind when you chose your course?
I didn't have a firm career in mind, but thought I would perhaps like to find a job in the energy sector. Things turned out quite differently after graduating, however, as I was able to learn about many other sectors during the course that I hadn't really considered when I was younger. The lecturers were very helpful in showing how passionate they were about their own areas.
Can you tell us about your experience of studying here? Any favourite memories, or places to go on campus and in the city?
I remember enjoying sitting out by the lake with my friends on a sunny summer afternoon, having completed our exams. I love Bath city centre and had some really great experiences there, too.
I also met my wife during Freshers' Week and we often visit Bath together to relive the experience and visit our favourite bars and pubs! We even got married at the Roman Baths as the city means so much to us.
Describe your career journey since graduating. What is a typical day like in your current role?
After graduating in 2016, I joined Transport for London's graduate scheme and have worked in numerous 'tech' roles in the railway industry. I am currently a Railway Signalling Systems Engineer for TfL working on the Four Lines Modernisation Project (4LM), which aims to bring wireless train control to some of the oldest parts of the London Underground – the District, Circle, Metropolitan and Hammersmith & City lines.
My role focuses on simulating trains and network configurations in a virtual environment before the system can be tested in real life using actual trains.
How did your studies help your professional development?
The wide breadth of modules available on my course really helped to expand my horizons. Many of the projects I completed were extremely useful in demonstrating to potential employers the skills I had learnt.
I did a placement year at Centrax Gas Turbines. This was an amazing experience that enabled me to learn from some incredibly talented people and work on some exciting projects while building evidence of my professional development
What advice would you give to prospective students thinking about studying your course at Bath?
Don't be afraid of trying new things or learning about something you think you may not want to pursue in the future. Being able to do something you really enjoy every day while getting paid for it is a great motivation!
I would also recommend that you visit all of the career fairs available to you. You'd be surprised just how many prestigious companies are desperate to obtain emerging talent and will even fully fund training courses or graduate schemes to get you on board.