Mohammad is an Agency Strategist at Google in Dublin, Ireland. He shares his memories of the Sham Castle, the benefits of a placement and his advice on making the most of university.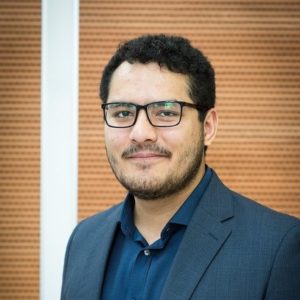 Why did you choose to study at Bath?
There were two things. Firstly: the superb reputation for strong career outcomes, including what in my view is the most supportive system for third-year industrial placements and one of the top economics departments in the UK. Secondly, the unique campus and location. The Claverton Down campus creates a special sense of community, and having a city as beautiful and interesting as Bath a short trip away remained enjoyable throughout my degree.
Did you have a particular career in mind when you chose to study economics?
I had half an idea in mind: I knew that I wanted to work in some kind of business consultancy, where I could work on business challenges, and develop my problem-solving skills and commercial awareness.
Can you tell us about your experience of studying here? Any favourite memories, or places to go on campus and in the city?
I thoroughly enjoyed my time at Bath – great memories were created in some of the things that sound most mundane (such as group coursework, seminars, even chats outside exam halls). There's also so much to explore around the campus – the Sham Castle was a place I often ventured to for some quiet time.
Describe your career journey since graduating. What is a typical day like in your current role?
I was fortunate enough to land on my feet with a role at Google, advising small and medium-sized businesses on their marketing strategy. Two years in, I now work with WPP, one of the largest global media agencies, as an Agency Strategist. This role involves working with the agency and their clients to generate sustainable growth with Google. A typical day can involve client consultations, running training or workshops at scale, and conversations with internal Google stakeholders.
How did your studies help you to develop?
Not only did my studies help me build the key skills required for a career in business, but they enabled me to connect and learn from incredible people. From the staff in the department to my fellow students, those I met were a great source of inspiration on my academic and career journey.
Going on placement at MGH Technology Solutions was incredibly useful in my early career, because it enabled me to build experiences and a portfolio to present in interviews. During the recruitment processes I was involved in, it was a unique advantage that helped me stand out compared to other graduates. An industrial placement is an experience I would highly recommend to those looking to kickstart their professional career.
What advice would you give to prospective students thinking about studying your course at Bath?
It's very important to have some kind of direction and purpose in all you do, but I made the mistake at times of being too focused on the long term. My top piece of advice would be to keep an eye on the future, but recognise the incredible opportunities and the unique experience you have ahead of you at university.
Whether it's through societies, sports, social activities or even just having a good time with your flatmates, make the most of the time you're in and don't lose it all to future planning and worrying.