Kirsty is CEO of Hft, a national charity supporting adults with learning disabilities. She tells us how the Bath MBA kick-started her career in the health and care sector, and helped her to overcome self-doubt.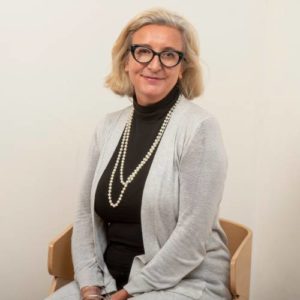 What drew you to study the Bath MBA?
I was working in the NHS after completing the Graduate Management Training Programme, but I'd reached a point where I felt that I needed to be able to balance my knowledge of the public sector with more commercial, business management skills.
What I really liked about the Bath MBA was the combination of theory and practical business experience. Through project work, we were able to apply what we had learned and ground it in reality. It was inspiring and gave me a strong sense that so much of what you do in building good business skills is about applying common sense and being brave.
The course took away a lot of my self-doubt. It also gave me the chance to work with people from so many different backgrounds, countries and experiences, so I learned a lot from my classmates too.
Describe your career journey since graduating
I credit the MBA with changing my entire career path. A Bath graduate advertised for a student to develop a homecare delivery business for Nutricia Clinical Care. This became the project element of my MBA and it led to a job offer afterwards to build the business from scratch. It's a great example of how the alumni network can create unique opportunities, and it's still one of the best jobs I've ever had.
Since then, I've worked for the NHS across exec and non-exec roles; became the CEO of Bath's Royal National Hospital for Rheumatic Diseases and Managing Director of the Virgin Care community contract in BaNES. I'm now Chief Executive of Hft, a learning disabilities charity and provider of homes and care and support for adults with learning disabilities across England and Wales.
What really appealed to me about this role was the chance to use my 30 years' experience in the health and care sector to make a difference and strengthen the opportunities for adults with learning disabilities to live their best life.
How has the MBA helped you in your career?
One example is when I was Chief Exec of Bath's Royal National Hospital for Rheumatic Diseases and I took the organisation through an acquisition process by the Royal United Hospital. It was a good test of the skills I built up through the MBA, having not worked within a mergers and acquisitions environment before.
What skills or experiences do you need to be a successful CEO?
With every job that's about leading people, you need to be able to genuinely listen and understand what people are trying to tell you. Otherwise, there's a risk that you'll make assumptions rather than testing them.
I was involved in an NHS programme for coaching Chief Execs to deliver high performance which then inspired me to complete a coaching qualification. The skills that you learn as a coach are applicable to all roles and many parts of life, but they do really help in terms of being a successful Chief Executive, to develop a coaching style that enables you to bring people with you.
Do you ever suffer from imposter syndrome?
I don't think I've ever lost that concern about whether I'm good enough, but it's probably quite important because it keeps us human. It ensures I check in and test out where I am with others. I would be surprised if there were many people who didn't on occasion have a sense of imposter syndrome doing these sort of roles.
What does ambition mean to you?
To me, ambition is more of a personal challenge. It's about always striving to push myself to do the best I can and to be open to opportunities.
I didn't ever have a clear goal to become a Chief Exec; I've always chosen roles based on how interesting they seemed, and how much they appealed to me at both an emotional level and an intellectual level. Sometimes I think that's what's helped to get me to where I am because I've just been open to opportunities and then worked with utmost commitment and enthusiasm.
What would your advice be to current MBA students?
The MBA is a stepping stone into so many different possibilities. My advice to students is to use the time to test yourself and your thinking, and don't feel constrained to one path.