Orlando made his debut as a fly half for premier league team Bath Rugby in September 2020. He combines his rugby career with studying for a degree at the University, supported by a Matrix Sport Scholarship funded by Johnson Health Tech. He shares what it's like to juggle a professional sports career with life as a student...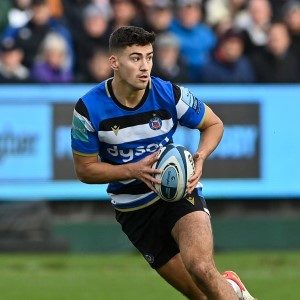 Why did you choose to study at Bath?
I was in the Bath Rugby Academy since I was 14. Bath was about two hours away and it was my dream university when I was younger.
When I got a contract with Bath Rugby, I realised I could play for the club and have the opportunity to study here as well. There's a really great partnership between Bath Rugby and the University, which offers the ability to study really well-respected courses while also pursuing the sporting aspect.
Geography was my favourite A-level and so I wanted to do something that had similarities to that – then I found International Development with Economics, which sounded really interesting.
How have you found combining playing for Bath Rugby with your university work?
In my first year I did full-time university and that was very tough, but I managed to make it work. This year I've played regularly for Bath so it made sense to go part-time at university, which has worked really well.
The University has been great on the flexibility with that, so I can do half the amount of modules per year and complete my degree over a slightly longer time. I just need to be organised, really!
What does a typical week look like for you?
We train Monday, Tuesday, Thursday, Friday, and usually have a game on the weekend. Training's normally from about 8am, and by the time I've driven home and done a bit of recovery it's probably 4.30pm. I try to chill out for a bit and then maybe do some work from about 6pm until 7.30pm before dinner.
On Wednesdays, my day off, I come up to campus for lectures and try to do some work in the library.
How does your sports scholarship help ?
The extra monetary help is great. It relaxes things around my food budget, so I can make sure I'm refuelling and preparing for training properly without having to be too concerned with what I'm spending on meal preparation.
The access to the gym at the Sports Training Village is really helpful, as well. I go in to do some recovery there on my days off, and it's handy if we don't have access to the gym at training for any reason. We also have access to a lifestyle advisor, which I'm hoping to use more in the months to come.
What's been the highlight of your rugby career so far?
It's typical that everyone says their debut, but that was really pretty cool. At the time I was 18 and I think the third-youngest to ever play for Bath Rugby. That was about a year and a half ago now, which has flown by.
There was also winning the 2021 U20s Six Nations Grand Slam last summer. We had a really tight group because of covid and were together for about a month in a hotel. Winning all the games and the overall tournament was pretty cool.
And then the third highlight would be getting selected recently for the England Six Nations squad. It was a fantastic moment. I picked up a couple of injuries along the way, but I still got through three weeks of full training alongside players I've watched all my life. I really enjoyed being involved in the matchday weeks and the game preparation. It was inspirational, but it also made me think it could be attainable.
What's the plan for when you finish your degree?
At the moment, I'm trying get the best degree possible – I'm determined to get a first. Rugby is quite intense, so after I graduate I'll probably enjoy playing full-time for a while. Typically rugby careers aren't too long – maybe until you're 35 or so. I think before then I'll try to optimise my degree and look to get work experience in the international development field.
What would you say to the donors that make sports scholarships like yours possible?
A big thank you and an encouragement, if it's at all possible, to keep doing it – because it gives people the opportunity to maximise their potential. Any sporting environment can be quite stressful at times, so to have tools to help with that stress and ease the pressure is really helpful.