Sophie Hendry works as Channel Partner Programs Manager (Power Services UKI) at Hewlett-Packard in Reading. She shares her positive experiences of placements, transferable skills and cider and black at the Students' Union…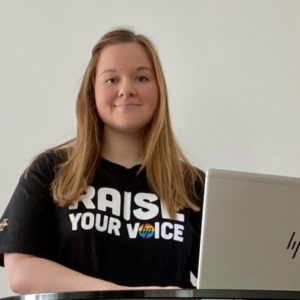 Why did you choose to study at Bath?
Both my dad and my sister went to Bath. After going to an open day, I fell in love with the campus; the course content was far superior to any other university I visited; and I thought the city was somewhere that could feel like a home away from home. Since that open day I've never looked back!
Did you have a particular career in mind when you chose your course?
I wasn't 100% sure on the type of role I wanted. I've always been interested in business but when looking at universities I also wanted to ensure the course was broad enough that I would have transferable skills and knowledge that I could apply to a wide range of jobs.
Can you tell us about your experience of studying here? Any favourite memories, or places to go on campus and in the city?
I had a fantastic four years. All the facilities such as the STV gym and pool are outstanding, the SU is by far the best I have seen and the opportunities for societies were endless. My favourite memories are being able to go to the SU for a cider and black on a Friday with my course friends!
Describe your career journey since graduating. What is a typical day like in your current role?
During my degree I completed an industrial placement at HP Inc, and before I graduated they approached me for a Channel Marketing role – which is my current job. No day is the same: I'm fortunate to have a vast number of different projects and interactions with partners, even through the hybrid world we live in! I currently oversee campaigns with our top partners across PC, print and supplies, so I'm always kept busy.
How did your studies and placement year help to develop you?
At Bath, Social Sciences gives you the opportunity to explore lots of different subjects and study different areas of society, while enabling you to mix with different courses. This definitely helps you to broaden your knowledge, hone your business acumen and make connections across departments. All of these are imperative in the world of work!
With HP, I worked within the End User Marketing department and it gave me the opportunity to apply the theory I had learnt in my second-year marketing module. I was very fortunate to be part of many different projects during my placement year, which meant I could focus on the areas I was passionate about while also developing my skills in a business environment.
What advice would you give to prospective students thinking about studying your course at Bath?
Take advantage of every opportunity. You only have the undergraduate experience once! Sign up for those courses you think will push you, explore societies that enable you to try new things and definitely keep up to date with your course reading list, as it does pay off!
Also, I'd highly recommend taking advantage of a placement year. It gives you invaluable experience and helps you to build a network that in turn can help you to find a graduate role.