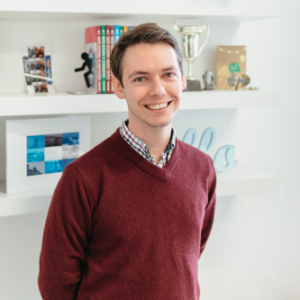 Dave is the CEO of Storm Consultancy, an award-winning digital technology agency, which he co-founded with fellow Bath graduate Adam Pope (BSc Computer Science 2009) during their final year of university.
In 2013, Storm entered into a joint venture with the University of Bath and created CiteAb – now the world's leading life science data company that's estimated to save the industry over $1bn a year. Both companies received the Queen's Award for Enterprise for innovation.
Dave is also co-founder and Trustee of Co-forest and Bath Digital Festival, while also volunteering his time to help students through mentorship and giving talks on campus. He also employs a number of graduates in his Bath-based business, Storm.
Why did you choose to study at Bath?
One of the things that really attracted to me to studying a business course was the breadth of opportunities – you learn about finance, economics, HR, marketing – the whole lot. What really impressed me about the Business Administration course at Bath was the level of integration with industry. We did two six-month placements in different companies, and we worked with businesses through our final year project.
Did you have a particular career in mind when you chose to study Business Administration?
No, only that I liked the idea of running my own business, perhaps because my extended family runs Kelly's Ice Cream. I've dabbled in various businesses since I was young and won the South West Young Entrepreneur of the Year for a business I started during secondary school. I didn't know exactly what I wanted to do; I just knew I wanted to be the one driving it.
How did your studies help you to develop?
I'm from a place in Cornwall where buses came every other Tuesday if you were lucky, so university was a big change. It gave me a confidence boost and I grew up quite quickly. I also benefitted from the connections I made through the course – not just with peers but also within the business community.
Even now that I'm an alumnus, the School of Management still invites me to events like guest lectures, and I love that I'm asked to chip-in and speak to students, too. As a graduate, you know how valuable a network can be because you've experienced it first-hand, so it's a no-brainer to give back to the University in some way.
Describe your career journey since graduating. What is a typical day like for you in your current role?
During my final year of university, my business partner [Adam Pope] and I started a tech consultancy that would later become Storm Consultancy. Over the years, the business has grown from being two people to being an organisation with a seven-figure revenue. Along the way we have invested in a handful of our clients, and also spinning-out organisations and companies.
A typical day might be speaking to clients about their business strategy, funding, IP – whatever it might be. We support them not just with web tech, but also holistically through coaching and advice. I can usually be found working on one of our side projects too, like Co-forest, where every so often I was on the phone trying to source thousands of wooden stakes for planting trees! You often wear many hats when it comes to start ups.
Tell us more about Co-forest and why you decided to 'branch' out…
This stemmed from Storm's 10th anniversary. We made three pledges: to become a B Corp; to create a forest to offset our carbon legacy; and to win the Queen's Award for Enterprise – and now we've achieved all three!
Co-forest was inspired by my eldest daughter who was asking what we can do to help combat climate change. With a healthy dose of naïve optimism, we decided to set an example and plant our own forest. Immediately, our clients wanted to get involved and within a month we had raised £250,000 and were on our way to buying land in Bristol and planting 10,000 trees. Hundreds of volunteers gave 4,000 hours of their time to make it possible, which shows what can be achieved by coming together. Co-forest will be a lasting reminder of that.
In the future, I hope my kids and grandkids will go for walks around there and think that their father, grandfather (or great-grandfather!) was involved in creating something here.
What does ambition mean to you?
For me, ambition is essentially your end point, your dream – but it's meaningless unless you have the drive and desire to make it happen.