Tom is the Director of Software Engineering at Macmillan Cancer Support. Here, he shares his memories of student radio, lessons learned and why it's okay not to have your career mapped out.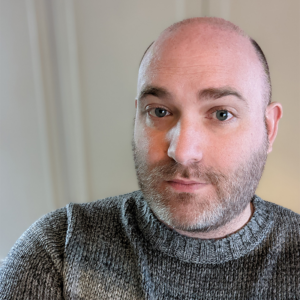 Why did you choose to study at Bath?
I was looking to study Maths and the University of Bath was ranked top in the country at the time. I put in an application and was invited to interview. On that day, everything went horribly wrong – the weather, public transport, and so on.
When I finally made it in, many hours late, the Maths department were very kind and were far more interested in my wellbeing than my being late. The professors were equally lovely and made me feel very welcome and wanted. It was an easy decision after that!
Did you have a particular career in mind when you chose to study Mathematical Sciences?
I was terrible at planning my future career. At school I didn't really consider things like electronic engineering or computer science and while I don't regret my choice to study maths, I do regret not having a more open mind. When I came to Bath, all I really knew about my future was that I didn't want to work with computers.
I've had a career as a programmer; I've been in charge of software engineering in the Government Digital Service and the Cabinet Office; and I'm now Director of Software Engineering at Macmillan Cancer Support. Planning is overrated!
Can you tell us about your experience of studying here? Any favourite memories, or places to go on campus and in the city?
The dark cupboard of University Radio Bath (URB) is definitely my favourite place on campus. So many memories there. I was a presenter [of the student-run radio station] for four years, with much of that time also spent doing bits of engineering.
I remember spending quiet time repairing headphones; working with Gareth to write the weekly show; the fear a week before the start of the New Year when nothing was working, and the relief when we somehow managed to pull it all back together.
Outside of URB, I also remember performing at an acoustic session in the Plug bar. I played and sang, and it was one of the most terrifying things I've ever done…
Describe your career journey since graduating. What is a typical day like in your current role?
Since graduation I've been working in the world of computers. After a stint on a helpdesk, I was a web developer at the University for over ten years before joining the government and moving into technical management.
After my boss left, I was pushed into being Head of Software Engineering at Government Digital Service and suddenly found myself in charge of software engineering in a place I'd been looking up to for many years. This was not a comfortable feeling, but I rose to the challenge and that took me into the Senior Civil Service.
Now I find myself as Director of Engineering at Macmillan Cancer Support. We are changing and modernising the way technical services are delivered in the organisation. Sadly, that means the day to day is a less-than-glamorous balancing act between email and meetings, while carving out space for more in-depth strategic reviews of how we work, and how things can change. Fortunately, I get to work with some fantastic people while we try to improve support for people affected by cancer.
How did your studies and experience at Bath help you to develop?
Day to day I do not use a lot of higher-order mathematics in my role, however I certainly gained a great deal from studying the subject.
I learned about breaking down opaque problems into smaller, more understandable components, as well as how to analyse a complex system, which is very useful both for service and organisational design. I also developed my love of abstract thinking, which led only today to me writing the phrase 'our technical estate is like a garden'.
The friends I made during my time at university are a constant source of strength and joy. If nothing else, the connections I made during this formative period made the time worthwhile.
What advice would you give to prospective students thinking about studying your course at Bath?
University is so much more than studying. The experiences you gain through clubs and societies – especially if you are in a leadership position – form a strong foundation for future endeavours. I was chair of the Tai Chi society for three years, and this taught me all manner of organisational skills that I still use today.
Maximise the time you have at university. Make friends, try things, make mistakes. You learn so much in a fairly safe and controlled space, which you can then use going forward. But don't forget to study!