Xinmin Han (MA Teaching English to Speakers of Other Languages 2019) came to Bath as a postgraduate international student. She now works as an English Writer and Editor at Xi'an Jiaotong-Liverpool University in Suzhou, China. She shares her advice for fellow students, revelations about the English language and why it's good to be flexible.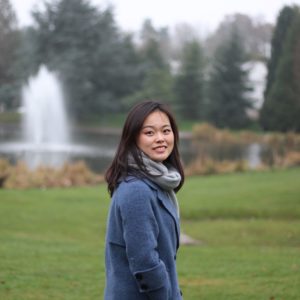 Why did you choose to study at Bath?
Before I applied to Bath, I was working as a social media editor in Shanghai, and I realised that a bachelor's degree is not enough. The job market in China is so competitive, and I needed a postgraduate degree to improve my career prospects.
I studied English and Event Management as an undergraduate, so I was thinking maybe I could try teaching English, because at that time it was a well-paid job and there were lots of work opportunities.
I applied for other universities in the UK, and received a few offers. I chose Bath because the programme's ranking was higher. I had also travelled to Bath before in 2015, and so knew that I really liked the city.
Did you have a particular career in mind when you chose MA TESOL?
I didn't have a particular career in mind. I was hoping to get into education, but I was also open to the new possibilities that life brings.
Can you tell us about your experience of studying here? Any favourite memories, or places to go on campus and in the city?
The experience was amazing. I lived in a flat very close to Sydney Gardens, and I volunteered at the Holburne Museum. If you have a car or bicycle, it's really fun to explore the city. There's always something new waiting for you to discover.
My favourite memories include jogging in Sydney Gardens in the morning, walking along the canals and watching house lights at night. If you see them from a distance, they are like candles floating on the dark sea.
The Women in Leadership conference was a life-changing experience for me, and I also enjoyed the Bath half marathon, Bath Art Fair and the colour run. I even enjoyed the rain!
On campus, I loved the library and the chaplaincy. I'd find a little corner in the library, and do my reading and essay writing. I also went to the Christian Union – after classes, we would chat and chill in the chaplaincy. It was fun to talk to people from different cultural backgrounds.
What was your experience as an international student studying in the UK? Do you have any advice for others?
I studied at Middlesex University London from 2015 to 2016, so Bath was my second time studying in the UK.
My experience as an international student was that most people are friendly, including my professors and lecturers, faculty and staff. I speak English fluently, so language wasn't a barrier for me. I did experience some subtle discrimination in the UK, but most of the people I encountered were very nice.
International students pay a lot of money for the education, and sometimes I felt: 'I have to study very, very hard; I have to be happy every day; I have to do this and that; I have to achieve this and that so all the investments are worthwhile.' But that wasn't the right way to think.
My advice for others is to give yourself more time, and don't be so hard on yourself. You need to give yourself some time to adapt to the new environment. Living in another country is difficult. It's okay to have culture shock. It's okay to make mistakes. The most important thing is that you live in the moment, take good care of yourself and enjoy every day.
Describe your career journey since graduating.
I came back to China in late August 2019, and I got a job within two weeks. I was working in an international school as an English teacher. I worked there for two years, but then I realised I actually prefer writing and editing.
I'm now working as an English writer and editor at a Sino-foreign university in Suzhou, China. I really love my job; it's very fulfilling. I enjoy interviewing people, listening to their stories, writing and editing articles. Every time I publish a piece on our school website, I genuinely feel a sense of achievement.
How did your studies help to develop you professionally?
Before I studied MA TESOL, I thought there were only two standards: British English and General American. But I was wrong. Now, English has become a world language and there are so many variants.
In classes, we talked about research methodology, language contexts, World Englishes, English as a lingua franca, and native-speakerism. All of them broadened my perspectives, gave me new insights and transformed the way I view English as a language.
What advice would you give to prospective students thinking about studying your course at Bath?
If you want to pursue a career in English teaching, MA TESOL at Bath is perfect. You will learn so much from the professors and the lecturers. It will challenge and change your presumptions, and you will benefit from the resources and connections that Bath provides for the rest of your life.
If you are not sure which programme to apply to, I'd still recommend the University. Sometimes our career paths change and our job is not directly related to the course – and that's okay. A master's degree from Bath can always help you get an edge in the job market.