Uvindu works as Senior Embedded Design Engineer at automotive test systems company AB Dynamics in South-West England. He tells us about his experiences of Team Bath Racing Electric, our beautiful campus and culture shock.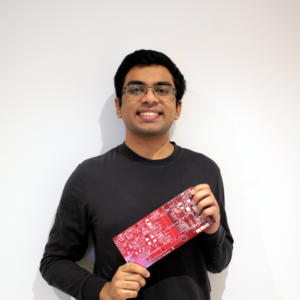 Why did you choose to study at Bath?
As an international student originally from Sri Lanka, and then growing up in Botswana, I had a few factors to consider – including the country I wanted to study in. The UK ended up winning me over as I felt the culture and values around education, work, and societal wellbeing more closely resembled my personal preferences. And it didn't hurt that there were numerous world-class universities available!
My choice of Bath specifically was influenced by the great industry connections the University has cultivated, as well as the emphasis on group and project work. I knew that the University had an excellent placements team and felt that this had the potential to really help with building my experience.
Did you have a particular career in mind when you chose to study Electrical and Electronic Engineering?
I knew I wanted to go into a field that would involve electronics and software, but I didn't have a specific career in mind. As a fresh undergraduate, I felt anything from consumer electronics or automotive, through to aerospace or robotics sounded interesting. I would have been ready to go into any of those fields.
Can you tell us about your experience of studying here? Any favourite memories, or places to go on campus and in the city?
Bath is a beautiful city to live in. The campus is relatively small compared to some other universities, but it has all the facilities you need.
The campus also features a beautiful lake. This was one of my favourite spots on campus to sit and unwind after a long day or relax during my lunch breaks – especially during the sunny summer months. Even as an alumnus, I can't resist walking by the lake when I occasionally visit the campus.
There is a footpath that runs parallel to Bathwick Hill, along the edge of Bathwick Meadow and it gives you some amazing views of the Bath skyline. At night, you can see the dazzling lights of what is a modern yet historic city. It's a perfect location to view the fireworks on Guy Fawkes Night!
What was your experience as an international student studying in the UK? Do you have any advice for others?
Bath is very welcoming and has a large international student population. There are many societies that celebrate different cultures and enable everyone to experience different traditions and festivals from around the world.
One piece of advice I wish I'd received when I first came to the UK was to pack light! Only bring the essentials with you and buy anything else as and when you need it. As I didn't have a home in the UK, every time I changed accommodation, I had a lot of items to move. And if I flew back home for the summer break, I had to keep it all in storage. The fewer items you have, the easier this all becomes!
The extent of the culture shock will depend a lot on where you are from originally. Regardless of how good your language skills are, if you haven't been exposed to British culture before, there will be phrases or slang terms that puzzle you when you first hear them! I've lived in the UK for over seven years now and still occasionally struggle with some regional accents.
Describe your career journey since graduating. What is a typical day like in your current role?
At uni, I did a year-long placement in the automotive industry, as well as a summer internship with Jaguar Land Rover (JLR). Then, in my final year, JLR offered me a place on their graduate scheme.
In 2020 I was approached by someone I got to know during my time at university and was offered a job at a company called AB Dynamics (ABD), based in Bradford-on-Avon. I accepted this offer and started in 2021. I'm currently a Senior Embedded Design Engineer, which means I work on software for various robots and devices used in testing in the automotive sector.
I go on site two or three days a week, which allows me to easily work on hardware and interact with other engineers who are working on the projects I'm assigned to. When I'm at home, I spend more time on work that doesn't require physical access to hardware.
How did your studies and placement help to develop you professionally?
My time at Bath gave me many opportunities to develop skills and connections that positively impacted my employment prospects. As an international student in the UK, I had no idea about the nature of the job market here, the working culture, or the process of applying for work placements. The placements team talked us all through the process and provided us with support to ensure our CVs were up to standard. In fact, my current CV is still based on their initial guidance!
With their support, I found a placement with SAIC Motor Technical Centre UK, the parent company for the MG automotive brand. In addition to work in our respective departments, me and my fellow placement students were given a classic 1980s MGB GT and tasked with upgrading it with modern technology. This project kept us on our toes throughout the year, and it was a real treat finally getting the car up and running during the final week of our placement! To top it all, the car was exhibited at the annual Classic Motor Show at the NEC!
In my third year, I joined Team Bath Racing Electric (TBRe). The team builds a new electric single-seater race car from scratch every year and competes against other universities, both within the UK and around the world, in the Formula Student competition. We handled everything from concept work, design and manufacture through to finance, sponsorship, and community engagement. It was a lot like working in a real engineering job, and the experiences gained were valuable – it made all of us all star candidates for graduate jobs!
What advice would you give to prospective students thinking about studying your course at Bath?
The experiences and connections you can make while studying here are invaluable, so make the most of your time here by fostering as many relationships as possible both with students and staff.
Getting involved with an engineering competition team as I did with TBRe is something I highly recommend. I attribute a lot of the success I enjoyed to the experiences I gained being part of that team, and I feel anyone who wants to work in industry should definitely consider doing something similar!
Lastly, remember to take some time off for yourself and enjoy the lovely sights the city and its surroundings have to offer. It really is a privilege to live and study in a city that is this pretty!