Emily Harrison (BSc Business Administration 2018) works remotely as a self-employed Project Manager, going into London once per week to meet clients. She tells us about great times at the Bath Brewhouse, forging her own career and how her course prepared her for real life…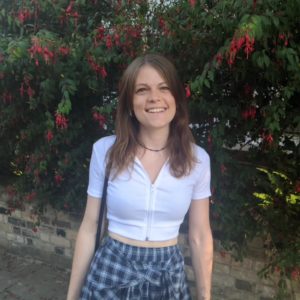 Why did you choose to study at Bath?
My main reason for choosing Bath was the course I did. I liked the fact that you got to do two work placements and a semester abroad. You could also tailor your modules to focus on areas you were most interested in – whether that was a specific aspect of business, like accounting, or keeping your options broader. I chose the latter and studied a massive range of modules, from marketing to entrepreneurship, to corporate social responsibility and accounting.
I also loved the focus on sport at Bath and got to try lots of different things, including kickboxing, pole fitness, yoga, and boxing.
Lastly, a big reason was the appeal of the city. It's a beautiful place and I wanted the opportunity to live there for a while and get to know Bath.
Did you have a particular career in mind when you chose to study Business Administration?
I didn't have a specific role in mind, but that was one of the main factors that drew me to the course. In my first year, I got to do modules across various areas of business, so I could see what liked and what I didn't. I then had free choice for the next three years to study the modules I wanted and see what suited me best.
Can you tell us about your experience of studying here? Any favourite memories, or places to go on campus and in the city?
I had a fantastic time studying at Bath. I made loads of friends in halls in my first year who I'm still in touch with now. In the city, there are loads of great pubs (the Bath Brewhouse is a good one!) and the Bath Skyline walk is great, too, if you're interested in hiking and great views.
Describe your career journey since graduating. What is a typical day like in your current role?
Immediately after graduating, I spent six months saving up to travel. After travelling for six months, I joined the Grayce graduate programme, who were able to place me with a company called Arm as a Scrum Master & Delivery Analyst.
Arm produce the IP that goes into the microchips of over 90% of the world's mobile phones, and supply IP to massive companies such as Apple, Samsung, Boeing and many more. It was a great job and I stayed there for two years, building up my responsibility and skillset.
I then decided to make the change from a large company to working as a sole trader in the facilities management industry. I was offered the opportunity as a mutual connection knew about a vacancy for a contract-based Project Manager and suggested I apply. I now work with two main companies doing a mixture of jobs, from project management and mobilisation, to data administration and analysis.
A typical day for me involves juggling multiple projects to check they're all on track against the plan and budget, and making sure everyone knows their roles and responsibilities to keep the project going. I'm the key point of communication between suppliers, clients and other contractors, and I ensure that everyone is up to date with progress.
Practically, my day includes a few client meetings, lots of reporting and presentation creation, plenty of communication between stakeholders and maintaining records of project progress.
How did your studies and placements help to develop you professionally? 
One of the main skills I gained to prepare for the professional world was the ability to work well with others. Often in university you spend a lot of time alone, studying and writing essays. What was different on my course is that a large portion of the work submitted was group-based, which is much more reflective of the real working world.
In reality, it's very unlikely that you'll be completing a piece of work that has been requested, designed, created, reviewed and critiqued all by yourself. So it's very important to learn how to work with other people well, how to listen, and to collaborate and share your thoughts in a comprehensive way. That was a massive skill I learnt on my course.
The other part of my course I found most useful was the placements. I did two six-month placements, and both were really insightful and prepared me well for leaving uni. In particular, going through the CV, interview and assessment processes for placements was really helpful to make it less daunting when I had to do it all again after uni.
What advice would you give to prospective students thinking about studying your course at Bath?
My main piece of advice is to give everything a go. Try new sports, societies and clubs. It's one of the only times in your life where you can try so many activities so cheaply, and it's a great way to meet long-lasting friends.