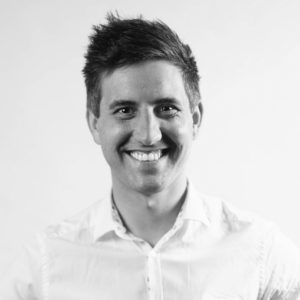 Simon is a double Bath graduate and loved the city so much that he set up his business, Canned Wine Co., here. He tells us about his 'lightbulb' moment, the importance of placements and his advice to new students.
Why did you choose to study at Bath?
I studied at the University of Bath twice (BSc Business 2014 and MBA 2018). It stood out from other universities because of the balance between campus and city life, and the sports side was excellent. It felt like the perfect university offering and I still think that, so it was definitely the right decision.
I originally went to study engineering but when I started university, I was living with lots of business students and their course looked awesome. I really liked that it included two placements – so I decided to switch to business.
After graduating I progressed quickly into a director role and eventually decided to go back to the University to study an MBA and get a bit more grounding in management.
Did you have a particular career in mind when you chose to study business?
I didn't know what I wanted to do and that's why having two industrial placements really appealed to me. I went to a traditional accounting firm and then HelloFresh when it was pretty much brand-new. There were ten of us and it had a real start-up mentality. Food and drink have always been a passion of mine, which is why I've come full circle and gone back to that.
Can you tell us about your experience of studying here? Any favourite memories, or places to go on campus and in the city?
I loved exploring the city – there's so much to uncover and that's why I ended up staying here after graduating. I remember having a love-hate relationship with the fifth floor of the Library (I quite liked the pressure of deadlines!). I enjoyed being part of the tennis club and the wine society, too.
Tell us about your career journey since graduating.
My first job was with Rocket Internet – a start-up incubator that owned HelloFresh at the time. They basically invest in ideas and give them the infrastructure to scale quickly. I helped them launch two companies in London before I got a job at Future based in Bath. It was primarily a print publishing company at the time, and I worked with the CEO on new revenue streams.
I developed what became Future's e-commerce offering, which is now a really important part of the business. I was promoted to Head of Innovation and eventually progressed into Director of Software as a Service. It all happened quite quickly.
Three years later I decided to study for the Bath MBA. I wanted to launch my own business in the food and drink space, which was my passion. After graduating, I developed Canned Wine Co. while working part-time at the University, supporting start-ups in digital media, until the point where I was ready to run my business full-time.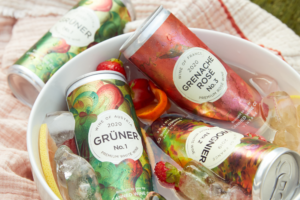 How did you come up with the idea for Canned Wine Co.?
You don't always want to open a whole bottle of wine with dinner, but you might want a glass – and that was an ongoing conversation between me and my now wife. Then we went to a festival and the wine on offer was poured from glass bottles into single-use plastic cups and we went away thinking we can definitely do something better. I spoke about it with my now business partner Ben, who was a wine merchant, and that was the start of Canned Wine Co.
Once we researched packing options, we realised how bad glass is for the environment and it justified why canning was the right way to go. Sustainability is essential to everything we do. It's not just about the cans, it's about how we source the wine; the winemakers we work with; how we ship the products – everything we do is about minimising our impact on the environment. We've since employed [fellow Bath grad] Marieke Hammes as our Sustainability & Operations Manager, who's been a vital part of forming our company's ethos and sustainability strategy.
How did your studies and experience at Bath help you to develop?
As the business grows, it's easy to see how more and more parts of the degree are applicable. In my undergrad, there was a subject called 'people and organisations', all about managing culture and how to develop people, which is really important as you're growing teams. The skills that I learned in business and management around accounting have been essential, too.
I met my wife on the MBA and we still have all of our textbooks because you never know when you might need to refer back to something. The courses are theory-driven, but when you have the business to apply it to you can see how that theory translates into the real world.
Tell us about the ways you're still involved with the University.
During both my degrees, I really enjoyed working on projects with real businesses so, since launching Canned Wine Co., I've provided project work for Bath students in return. I think it's been a good learning experience for both me and the students. Two placement students have gone on to become permanent employees here.
The University's been really supportive of the business as well – using Canned Wine Co. at events and inviting us to talk about the company at the recent Enterprise Day, for example. I think there's a lot of value in being a part of the Bath community on both sides.
What advice would you give to students thinking about studying your course?
Definitely get involved with the city. There are lots of people who have started their own businesses and there's a real supportive community. I think it's quite easy as a student to focus on what's going on in the University and not look to what's going on in their locality, so go and meet people. Bath is a really great city to do that in because it's not too big.
What does ambition mean to you?
For me, it's about seeing opportunities to grow in as broad a way as possible, whether that's personally, academically or in business, and hopefully having a positive impact on other people and the planet along the way.