Michael is Managing Partner at design-builder firm Blackthorn Management Inc and Vice President of its sister real-estate development company Silvathorn Developments Inc, both based in his native Toronto, Canada. He studied online for his master's with the University of Bath's School of Management, and shares his thoughts on distance learning, thinking outside the box and revolutionising the family business.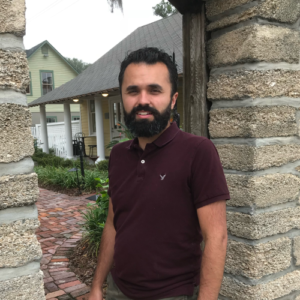 Why did you choose to study at Bath?  
I always intended to pursue a law or accounting profession but during my undergraduate studies in Toronto, I grew an interest in helping my parents with the small construction company they had started when I was a very young boy. As I began to hone in on the business skills I was learning in my degree, I would bring those ideas to the table and we saw immediate results to the bottom line.  
When I completed my undergrad, I had to make a decision on future academic pursuits. Though law and accounting were my initial path, I now saw myself wanting to pursue an MBA, with a focus in the construction sector. I searched extensively for the right programme in Canada and found none. Very little appealed to me in the US, but in my extensive research I came across the MSc programme in International Construction Management at the University of Bath and it immediately checked off all the boxes I was looking for.  
Did you have a particular career in mind when you chose your course?  
My intent was to develop the skills necessary to grow the family business and eventually move us into our own real estate development firm. It took 15 years, but those goals have recently been realised. 
What was your experience as an international student studying online at Bath?  
I completely enjoyed the flavour of working with instructors and students from all over the world. Although I never intended to work internationally, construction is a very multicultural industry in Toronto, so the skills I developed through the course have been invaluable. I had no issues remaining disciplined through the online courses, and had great communication with my instructors.  
The two residentials I was a part of – one in Vancouver, and one in Bath – are still memorable and actually played a large role in our company's direction from a general contractor to a design-builder.   
What is a typical day like in your current role?  
In any typical day, I'll usually find myself overseeing high-level project deliverables such as scope, schedules and budgets; troubleshooting any big issues that arise; connecting with stakeholders via email, phone and Zoom; meeting with site personnel on active projects; and also likely involved in some form of business development.   
How did your studies help to develop you professionally?  
The course provided me with the skills and confidence to step out and try new management practices and strategies, which ultimately created good value and gave me a better work-life balance. 
What advice would you give to prospective students thinking about studying a similar course at Bath?  
Be fully committed to the process and allow yourself to think outside the box of what you think you know about yourself, management studies and the construction industry. We work in a very fragmented and turbulent industry that doesn't always attract the best talent.  However, if you put in the work and develop those skills, this can be a very rewarding and profitable industry to work in.