Jaume Aranols came to Bath as an international student from Malaysia and is now a Graduate Energy Engineer at Arup in London. He shares his memories of happy hours, an unexpected foray into salsa and finding his path...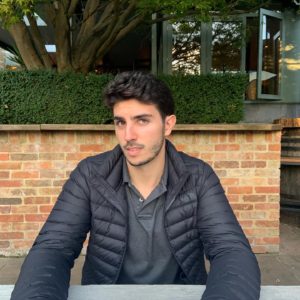 Why did you choose to study at Bath? 
Hearing about Bath from a few older school friends that were studying there at the time – and how much they were enjoying it – really pushed me to learn more about the University. I developed a strong gut feeling that it was going to be the place for me. The statistics merely reinforced this notion: one of the best in the country for sports, student satisfaction and for the courses that I was interested in, and beyond that, the city was beautiful. My mind was easily made up! 
Did you have a particular career in mind when you chose to study chemical engineering? 
I loved chemistry throughout my International Baccalaureate, but the subject seemed too lab-based at university level. I had also always been interested in engineering. As such, a brilliant middle-ground seemed to reveal itself: chemical engineering. There was no clear career direction that I was thinking about, but I was fairly certain that I would want to end up doing something practical. I was confident that the course was going to provide me with the skills and knowledge that I needed to shape my career as it went forward. 
Can you tell us about your experience of studying here? Any favourite memories, or places to go on campus and in the city? 
Bath has something for everyone. The city is a pleasure to live in, there are countless societies and sports clubs to try (demonstrated by the fact that I arrived at University as a non-dancer and ended up part of the Salsa Society committee), and the level of education is stellar.  
However, studying at Bath is truly special due to the sense of community; there is never a moment alone. Wherever on campus or in the city, you are either surrounded by familiar faces, or meeting fascinating, unique people.  
There were so many memorable places to hang out; summer outings to the Royal Crescent were essentially mandatory, as was happy hour at the Plug and the Tub on Fridays – especially post-coursework submission. East Building and The Edge were great places to work, but I'll never forget floor 5 of the Library for carrying me through the epic work shift leading up to my final design project submission. 
In town, I definitely recommend the Colombian Coffee Company and Mokoko for the best coffee (the latter also boasts the best croissants and pains au chocolat, many of which were consumed as a part of my final-year flat's Sunday morning tradition). 
What was your experience as an international student studying in the UK? Do you have any advice for others? 
It was incredibly smooth. It was my first time living in the UK, and the University provided an abundance of resources to help with the transition. Above all, everyone is extremely friendly – meeting new people is almost effortless during your first year, which really helps you feel at home.  
My advice is to get out there and join as many societies and sports clubs as possible. You'll meet a ton of people from many different backgrounds that are just as nervous or as eager to make friends as you are. On top of that, you might discover some hidden passions! It really is the best way to integrate yourself within the university community. 
Describe your career journey since graduating. What is a typical day like in your current role? 
My journey since graduating has been somewhat non-traditional. Like many people, I spent most of my final year attempting to figure out the career path to follow, and no clear goal seemed to reveal itself. After graduating, I got involved with a recycling start-up that was undertaking promising projects with chemical engineers. However, my time there made it clear that I wanted to follow a different path focused on sustainability within the energy sector.  
Having spent most of my free time applying to numerous jobs, I was able to land my dream role – Graduate Energy Engineer at Arup, a large engineering and design consultancy. There, my day-to-day involves energy modelling and the design of energy networks for renewables, among other things. 
In between these roles, I enjoyed some time off, travelling around Chilean Patagonia in an old RV from the '70s, and spending some time in Malaysia, Spain and Mexico. 
There is no correct career journey to follow after graduating. We often compare ourselves to other people and are disappointed with our progress, but everyone ends up finding their way. It just requires patience, and a desire to get out there and try new and risky things. Worst case, there's no harm in changing roles or shifting career direction if we're not happy with the current one.  
How did your studies help to develop you, professionally and/or personally? 
Chemical engineering prepared me with all the technical knowledge that I needed for my career. But more importantly, the great thing about studying engineering – any engineering subject, really – is that you learn how to efficiently and rationally problem solve. That's definitely the thing that I value the most. 
What advice would you give to prospective students thinking about studying your course at Bath? 
Really look at the course description! Chemical engineering may sound very chemistry-related; however, the course focuses on how to design for chemical processes at an industrial level. It's a challenging course, with concepts that are simultaneously intriguing and complex. The design aspects are particularly fun, and it definitely offers a range of knowledge that is crucial for any engineer as well as subjects you're unlikely to learn elsewhere.