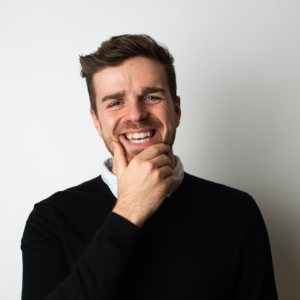 Sam Thomas is Director of Technology at Curve Analytics in London. He shares his career journey, how Bath's placement years set you up for success and his fond memories of sports nights at the SU.
Why did you choose to study at Bath?
I visited a few universities and, being from the countryside, Bath's campus was significantly less intimidating than most of the city-based universities! It seemed like a good mix of fun and challenge – and the sports facilities were a big tick.
Did you have a particular career in mind when you chose to study biology and later for a master's in business analytics?
For biology, not really – I pictured some Tarzan-esque voyage through the Amazon discovering plants, but ended up doing a placement in accounting, so that never really materialised. Once I'd seen 'the real world' through my placement, I had a fairly clear picture that data and data science was the place to be – hence the MSc in business analytics.
Can you tell us about your experience of studying here? Any favourite memories, or places to go on campus and in the city?
It took me a good few years to get over how much fun I had at Bath. I enjoyed my course, coursemates and the Eastwood friends I stuck with throughout – but what I enjoyed most was my involvement with University of Bath Rugby. Whether waking up at 6am for training, looking after each other on game day or enjoying Score afterwards. In terms of places, the Limekiln sports pitches on a foggy Monday morning, or the Plug & Tub on a Wednesday evening were probably the two things I remember most fondly.
Describe your career journey since graduating. What is a typical day like in your current role?
I got a job at KPMG as a Technology Strategy Consultant straight out of university. I was fortunate to work with a few great mentors and great projects, helping clients drive their digital advancement through getting us to do cool stuff for them. I learnt a lot at the interface of business and tech. From there I joined Curve Analytics – a data, insights and technology company that, at the time, only employed three people.
We help businesses and brands to unlock consumer opportunities through great digital data. In practical terms, this means researching products, brands and categories, and building analytics dashboards – all based on machine learning, great data and intelligent methods.
I head up the technology team, which has since grown to about 20 people. We've really enjoyed hiring Bath alumni, and now have 15+ across the company!
How did your studies and experience at Bath help you to develop?
I think Bath is great at helping you to develop a really well-rounded set of skills. The academic side of things are to a really high standard – and I found my courses were particularly good at encouraging critical thought and evaluation, rather than just memorising facts. This was coupled with a lot of opportunities away from academic study to build softer skills.
The placement year that most Bath students do really sets people up for career success and that's part of the reason we've hired so many Bath grads – they tend to be ready to hit the ground running on day one. Most did sport or joined some other society at Bath, too, which I think helps you to develop a broader skillset, and I benefited from each of these things.
What advice would you give to prospective students thinking about studying your course at Bath?
Yeah, do it! I think there's been a lot of investment in biology in particular in the University since I joined, and the School of Management is growing. I think there are very few cons to Bath – although there may be some inherent bias in there! Just make sure you actually like the content involved in your course by looking up the modules available. And when you graduate, be sure to reach out to us at Curve Analytics!