After studying at Bath in the 1970s, Jamie went on to have an influential career in the computing industry. He is now based in Cambridge, where he is involved in developing entrepreneurs, and has supported PhD scholarships at the University. He tells us about building a career he loved, securing investment from Apple and cycling across Asia...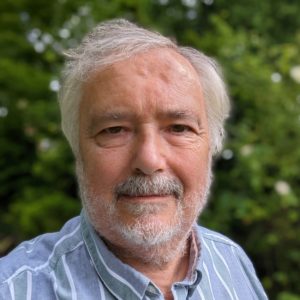 Why did you choose to study at Bath?  
My first focus was on what subjects I should choose. In the end I narrowed down the choice to Physics, Physics and Physical Electronics, Computing and Economics, or Electronics.  Despite electronics being a passion of mine, I felt I needed some options. I also wanted a modern university and for me the clincher was the option of spending a year of my degree working in industry that tipped the balance, and so I chose Bath.  
Did you have a particular career in mind when you chose your course? 
No, the only careers advice I received from my school was to go on to university, then I guess it was someone else's problem in terms of offering advice. That was some time ago, though! 
The course I chose gave me options – physics has a wide range of applications and I knew the work placement would give me some real experience of the working environment. My placement was at Plessey Research (Caswell) Ltd, and that firmly cemented my decision to seek a career in the field of electronics, particularly integrated circuits – the way of the future. 
Can you tell us about your experience of studying here? Any favourite memories, or places to go on campus and in the city? 
I am ashamed to say that, despite the beautiful architecture and countryside around the campus and the city, it is only in recent years on my visits back to Bath that I have realised that. One place that does spring to mind is DomSci, and there was also a charity 'drink a church dry' event during one RAG Week...  
I remember my tutor, Dr John Acton, taught me a lesson that applies far beyond physics and that I still apply today. It was how to take a complex equation and then simplify it to its basic elements to aid understanding. A technique that is just as relevant when looking at the balance sheet of a company or the business plan of a start-up.  
Describe your career journey since graduating.  
Plessey gave me an unconditional grant for my final year, and a guaranteed job offer for when I graduated. I still interviewed with other companies and while there were some interesting technologies being developed, being at the heart of the electronics industry working on integrated circuits attracted me back to Plessey's research centre.   
What was less appealing was how little I knew of the strategy behind the company: when the company bosses visited, they barely spent any time in the lab I worked in. This was around the time that home computers were starting to be sold and so I bought a BBC Computer and was quickly hooked. That led me to working for Acorn Computers in Cambridge. They wouldn't tell me what I was going to be working on, but I guessed! 
I ended up managing the very large-scale integration (VLSI) team after about a year. We developed chips, including the ARM processor and support chips, for the Archimedes range of computers produced by Acorn. This involved having to manage my peers and an older and more experienced colleague.   
Acorn had some troubled times and a change of strategy, which led to us co-founding a joint venture company with Acorn IP called Advanced RISC Machines Ltd – later shortened to ARM Ltd – in 1990. We had investment from Apple computers and a chip company called VLSI Technology Inc. However, funds were still limited, and I so took on the role of sales: it was cheaper for me to learn how to sell than for a salesperson to be hired and learn about the technology! It turned out to be a most enjoyable role.  
We took the company public in 1998 on the London Stock Exchange and NASDAQ, and I took on the position of COO.   
Before 'retiring' in 2002, I switched roles to that of Chief Strategy Officer. I undertook some angel investing and then joined a venture capital company called Pond Venture Partners as a part-time VC. We raised a fund, invested it and successfully exited.  
For the past few years, I have been able to indulge my passion for electronics and have also been spending time with entrepreneurs and some of the organisations in Cambridge that support them, such as the Maxwell Centre's Impulse programme, the Judge Business School Ignite Summer School (I am an Honorary Fellow there), Bristol's QWEST programme and IECT Hermann Hauser Summer School for Entrepreneurs in Austria. 
How did your studies help you to develop?  
There were two factors: one was learning to teach oneself, and the second was the placement year.  My career has the thread of electronics running through it and Plessey was the ideal placement for me, where I learnt a lot in how to manage people as well as electronics.  
What advice would you give to prospective students thinking about studying your course at Bath? 
Few people will end up doing the work they started out doing, so use opportunities to work out what you enjoy and to avoid what you don't. Remember what Mark Twain allegedly said: find a job you enjoy doing and you will never have to work a day in your life.  Starting and building can be hard work, stressful but also great fun. 
What motivates you to donate to Bath, and what would you say to others thinking of doing the same?
A few years ago, I cycled from Bangkok to Saigon, which took us through Cambodia. As I believe in the importance of education, I had hoped we might support someone from there in their studies. This didn't quite work out; however, the University was able to suggest another suitable candidate for us to support, Ruth, who has since completed her PhD. As a family, we have also talked about what areas we wish to support.