Holly spent a year at Bath as a visiting student from the US and lives in New York with her husband Mark. After a career in finance, she now gives back to the University of Bath by volunteering on our US Foundation board and by supporting Gold Scholarships. She tells us about making the most of her time here, how Bath enriched her career and the time she re-enacted the Boston Tea Party...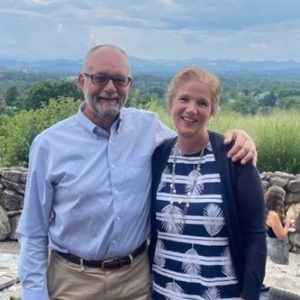 Why did you choose to study at Bath? 
I was two years into my economics degree at Colby College in the US when I had the opportunity to spend my third year abroad. My economics advisor gave me a list of four UK universities with excellent economics curriculum, and Bath was my first choice among them. The reputation of the economics department, combined with the allure of the city, made it an easy choice. 
Did you have a particular career in mind when you chose your course? 
I knew I wanted to pursue a career in finance and so chose an economics and finance degree. I was able to secure a position on Wall Street immediately upon graduation (my fourth year was completed back in the US). I firmly believe that my year spent at the University of Bath was an asset during my interview process. The coursework was relevant and made me a strong candidate for the position, and was a source of discussion with the investment banking professionals who soon became my colleagues.  
Can you tell us about your experience of studying here? Any favourite memories, or places to go on campus and in the city? 
Spending a year in Bath was a highlight of my educational experience. I made lasting connections with fellow students and professors. The excitement of being in a different country and having the opportunity to experience a different educational setting, combined with living in such a unique city made for many great memories.  
One of my fondest will always be RAG Week – something we do not have in the US. Preparing for the parade through the city centre with my fellow American students (the theme that year was 'crime', so we decided to recreate the Boston Tea Party on our float) was a novelty for all of us, and a great bonding experience. I still have the Bath RAG t-shirt, which my daughter finds hilarious – a shirt that exceeds her age by a couple of decades! 
What was your experience as an international student studying in the UK? Do you have any advice for others?  
I loved the challenge of moving to a new country, where I basically knew no one, and starting a new phase of my undergraduate experience. It was so different from my experience at home, but it opened new ways of approaching my studies. Being at Bath made me a better student. Granted, the system of grading was very different, so that took some getting used to.  
I also made it a goal to take advantage of extracurricular activities, such as joining clubs, and travelling around the UK when the opportunity arose. I was part of a panel at my US university when I returned home, speaking about my overseas experience. It was an opportunity to strongly recommend it to anyone who was up for the challenge, as the rewards will remain for a lifetime. 
Describe your career journey since graduating. What is a typical day like in your current role? 
Although I'm now retired from Wall Street after a long and successful career, I currently use the skills I developed by volunteering for many different non-profits in the US, as well as serving as a board member of the University of Bath's US-based Foundation.  
A typical day includes helping non-profits with their financial plans and strategies, which has become so vital as many of them deal with the repercussions of a world-wide pandemic, as well as pursuing the interests and activities I never had time for while I was working.  
How did your studies help you to develop? 
My experience with the Department of Economics at Bath was excellent, and I highly recommend it. As an international student focused on meeting the requirements for my degree in the US, I was also able to choose other courses as electives as well – such as politics and courses offered at the School of Management – to round out my Bath experience. I found each of my classes rewarding and contributing to my overall success both as a student and as a professional after graduation. 
For me, the experience of living abroad as well as the knowledge and skills developed during my studies served me well during my professional career. Being self-motivated, inquisitive, diligent and willing to continue to learn were requirements for my position. How I approached my classes and assignments with success served me well in the professional world. The particular skills I learned at Bath made me a better student and prepared me to become a successful executive. 
What motivates you to donate to Bath, and what would you say to others thinking of doing the same? 
I believe that universal access to education is vital to a thriving, dynamic society. We have been proudly giving to the University's Gold Scholarship Programme since its inception, supporting the University's goal to eliminate economic barriers to higher education.  We would say to anyone considering supporting the Programme to read the testimonials from past and current Gold Scholars on the University's website – the ability to be part of something that impacts young people in such a positive way is both meaningful and rewarding.