More than 20 years after completing her PhD at Bath, Jane returned to the University and is currently Director of Teaching for MBA Programmes in the School of Management. She is also the founder of 1st Impressions, a non-profit organisation that helps women build their confidence in the workplace, and also volunteers as a mentor for our Gold Scholars. She shares her story...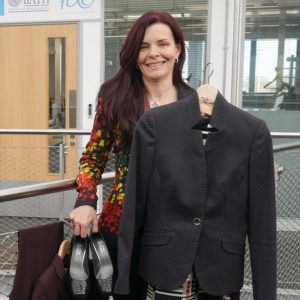 Why did you choose to study at Bath, and how was your experience here?   
I started on an MPhil in supply chain management and converted to a PhD after six months – I chose the MPhil because it was one of the only ones in the UK at that time (1995). I also knew Professor Richard Lamming while studying for my undergraduate degree at Brighton, and he was one of the most respected supply chain professors in the UK. 
I was already embarking on a career in procurement and supply chain at the time – I was a graduate trainee at London Underground from 1992 and was sponsored to do the MPhil and PhD by them. 
Over the six years I studied for my PhD part-time, I remember the city of Bath fondly, which is why my husband and I moved here in 2021, having worked abroad for many years. 
Describe your career journey since graduating. What is a typical day like in your current role and what drove you to set up 1st Impressions?   
I spent 30 years in corporate life, becoming a managing director for Citibank in 2010. I had roles in supply chain, operations and procurement over those years, working across many different sectors. I also was also a non-exec director for the Chartered Institute of Procurement and Supply – becoming its second only female president in 2005.  
I don't really have a typical day since I left corporate life in 2021. I work  for the University as the Director of Teaching for the MBA programme in the School of Management.  
1st Impressions came into being after discussions between my husband and I about how to help women in the workplace. Throughout my career I understood the power of dress in helping my confidence. I had built an extensive wardrobe through the years and when we moved back to the UK from abroad, it became very clear that I wouldn't have much use for the majority of these outfits – and 1st Impressions was born!  
We aim to make a positive impact on all women wanting to work by helping them to create great first impressions at interview. We provide a tailored service, focused on improving their confidence through wardrobe selection and interview coaching, leaving them looking good and feeling ready to impress. In September, we helped our 50th client! 
All of our clothes and accessories are items that professional women have donated because they loved them and wanted to share them. We set up a community interest company (not-for-profit) in July 2021. We are reliant on grants and volunteers, and have a number of very talented and dedicated volunteers, including stylists, marketing professionals, operations people and coaches.  
In May 2022 we opened our boutique, based in Fairfield House, Bath. We offer appointments to clients who either come to us direct or have been referred by other organisations. We work with job centres, local government agencies, charities and HMP. We now offer pop-up services and can arrive with a selection of clothes to help women prepare for their interviews. 
How did your studies help you to develop?  
From a personal point of view, having achieved a PhD at Bath gave me the self-belief to push ahead in my career – as a woman, I believe it broke down barriers for me. I achieved a high level of seniority early on in my career, partly due to this.  
Professionally, I was a rarity in terms of having a PhD in supply chain – this definitely helped me progress, and by the time I was in my early thirties, I was a supply chain director for a large manufacturing company. 
What advice would you give to prospective students thinking about studying your course at Bath?   
Try to think about the future and what might help you in your future ventures – but also try to pick something you like. I am passionate about supply chain management and have been since my undergraduate degree in business studies at Brighton Polytechnic. 
What motivates you to volunteer as a mentor to our Gold Scholars, and what would you say to others thinking of doing the same?  
I am immensely grateful for the support I have had from a number of very special people throughout my career – whether they were official mentors or not, they all contributed to my achievements. I have always tried to 'give back' whenever I had the opportunity.  
The Gold Scholarship Programme is amazing. Two Gold Scholars worked with 1st Impressions early on and made a significant impact on our success – so there's even more reason for me to want to be involved now... I might find some new volunteers who want to help in our mission!