Chris Chuck began his journey at the University of Bath as a PhD student who wanted to use science to solve the sustainability issues of our time. He's now a professor whose revolutionary palm oil alternative is set to reduce the environmental impact of food production by curbing deforestation.
Chris shares his experience studying and working at Bath, and his vision for the future of food. Seaweed burger, anyone?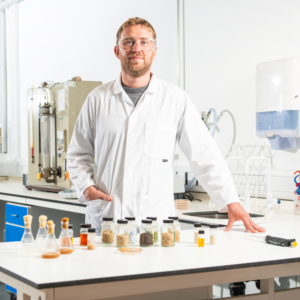 Why did you choose to study a PhD at Bath? 
What really appealed to me was the friendly, community feel of the campus and especially the direction of research.
It was 2004 and the Department of Chemistry was moving towards sustainable and 'green' chemistry, which was emerging at the time. It really chimed with my interests. I also liked the link with industry – even back then I was thinking about impact and wanting to do something meaningful and closer to market.
Did you have a particular career in mind when you chose to study for a chemistry PhD?
I knew I wanted to go into sustainable technologies and environmental chemistry to make a positive impact. I did my PhD with the company Johnson Matthey, looking at turning waste cooking oil into biodiesel and it's nice to see that now, over 15 years later, almost all waste oil in the UK is turned into biodiesel. I got a taste of working in an area that makes a difference and wanted to do more.
Describe your career journey since graduating with a PhD in chemistry in 2008?
I set up my own business as a consultant, advising companies on biofuels and bioprocessing, but I missed the research bug. Bath had just established the Centre for Sustainable and Circular Technologies – now the Institute for Sustainability – so I came back, did a postdoc and applied for the Whorrod Research Fellowship, funded by alumnus Roger Whorrod OBE and his wife Sue.
The five-year fellowship enabled me to focus on research, build up a group of PhD students and develop my idea to create a palm oil alternative.
After the five years were up, I got a permanent lectureship at the University, became a reader and now I'm a full professor. It was a rapid trajectory because of the springboard the fellowship gave me.
Just as the fellowship was ending, I got a £4m UKRI grant to continue the work. Roger and Sue's gift was the starting point and helped me to develop my ideas to the point of winning that level of funding.
The Clean Food Group has since invested up to £1.8m and I've taken on a technical advisor role. We've got a dedicated lab on campus and a multidisciplinary team helping to scale the technology for industrial production by 2025. I'm also supported by government grants to work with other companies to be more sustainable by troubleshooting any issues they have.
Can you tell us more about your research?
I've been working to develop a palm oil substitute since I was awarded the Whorrod Research Fellowship in 2011, but what sprung out of that were other ideas. Like turning waste coffee grounds into biodiesel and using seaweed to make plastic.
My research is all about addressing the need for more sustainable products by looking at what we have now and finding where the gaps are.
The palm oil substitute is a fantastic start, but the yeast is so versatile that we could eventually create foods with new flavours, textures and nutritional profiles – it's really exciting.
Any favourite memories, or places to go on campus and in the city? 
I always make a point of walking down the hill through the fields, even in the rain. It's a great way to decompress after a day's work, looking at the incredible view across the city.
How did your studies and experience at Bath help you to develop?
Bath has a lot of support on offer, especially for young academics. I was given the space and the networks to be able to build multidisciplinary teams to push this research forward.
To create a palm oil substitute, you need the work of chemists, biologists, engineers and commercial people to even get it to the point where it might have a chance. Cross-disciplinary work like this is the reason why we have so much impactful research at Bath.
What would you like to achieve in the future?
The three big areas that we must grapple with in the 21st century are food, energy and healthcare. My work is in the future of food – we need to address deforestation by making food production more sustainable.
I want to be part of that wave where, in 30 years' time, we're eating very different, much more interesting and sustainably produced foods – from grass and yeast to bacteria and algae.
At the moment, vegan and vegetarian alternatives are quite damaging for deforestation reasons because they use soy protein and palm oil. Once we replace those, we can then go further and create more flavours and tastes. What that looks like, I don't know... seaweed burgers?! We've got to work on the branding.
What advice would you give to prospective students thinking about studying for a PhD at Bath?   
You should definitely do it and we have positions available! My advice would be to make sure that you're passionate about the subject area and that you feel comfortable with the supervisory team – those are the two main things that will get you through the tough times of any PhD. Bath is an amazingly supportive place to help you with that journey.