Originally from Barbados, Matthew joined the University of Bath as a Chevening Scholar, funded by the UK Government's Foreign, Commonwealth and Development Office. He is now Barbados' Ambassador to the United Nations, the World Trade Organization and other international organisations, based in Geneva, Switzerland. He tells us about the joys of diversity, the importance of building connections, and falling in love with the city...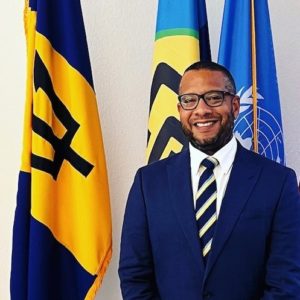 Why did you choose to study at Bath?   
Way back in the last century – in 1999, to be precise – I was a young foreign service officer working at the Ministry of Foreign Affairs in Barbados, with limited knowledge of the UK and even less knowledge of Bath. That December, I rang in the turn of the millennium in London. It was spectacular and was everything I imagined London would be. As I stood among the crowds on the banks of the Thames, I knew I wanted to return.  
The next year I applied from the British Government's Chevening Scholarship scheme and I had to list the universities where I was interested in undertaking a master's: Bath was one of them. It had the exact kind of course structure that I wanted; it was a modern university in the middle of a historic city; and, importantly, it was less than two hours by train from London. I was privileged enough to win both the scholarship and a place at the University. Up until that point, it was primarily an intellectual decision: which university offered the best course and with the best financial structure, and it was Bath. At that point, I had no idea I would fall so much in love with the city. 
Did you have a particular career in mind when you chose your course?  
International development was my chosen field, and the course structure that the University offered was ideal. Economics, politics, anthropology and sociology all mixed together, interacting with people of every different nationality every day. I saw this as a platform to help me move one day into the United Nations or another development agency such as the Commonwealth Secretariat. 
Can you tell us about your experience of studying here? Any favourite memories, or places to go on campus and in the city?  
What you should know about us from the Caribbean is that no matter how old we get, when we attend a new school we are accompanied by our parents. My dad and I landed in London in August 2000 and took the train to Bath. I'll never forget my first vision of the city as we pulled up at the station. Beautiful, pale-stoned architecture, cobbled streets, the river. It was like stepping back in time. We stayed at a bed and breakfast that first night; it was rainy, gloomy and cold, and there was a part of me that thought, 'I have left the sunshine of Barbados for this?' But the next morning that all changed. The sun was out and we explored Bath in all its glory.  
From the traditional Guildhall market to the Royal Crescent to the small alleyways, I was absolutely enchanted. One of my favourite things in Bath was walking. Just walking. It is a paradise for 'flâneurs' and nature lovers.  
The course also had the right mix of intensity and relaxation. My favourite elements were the more informal debates among a class of 25 different nationalities. We learned about each other, we embraced diversity and, almost 25 years later, many of us remain in close contact. 
What was your experience as an international student studying in the UK? Do you have any advice for others?  
As an international student you become an ambassador for your country, your ethnicity and your race every day. We know so much about the UK and its history that it was often shocking how little British people knew about those of us from the Caribbean, Latin America, Asia or Africa. Every day and every interaction felt like a 'teachable moment', which can be exhausting. Ultimately, however, I see it as broadening the general scope of knowledge, pushing the acceptance of diverse cultures and experiences, and creating new connections where none might have ever existed. 
My advice: be open and experience it all. Get on that bus and train and explore the UK. Join those clubs and accept those invitations to the pub. Try that haggis and fish and chips. Embrace it all. Be a teacher and be a student.  
Describe your career journey since graduating. What is a typical day like in your current role?   
After graduating in 2001, I returned to the Ministry of Foreign Affairs and Foreign Trade of Barbados, and less than a year later I was transferred to the Permanent Mission of Barbados to the United Nations in Geneva. And who were the first people I socialised with? Four friends from the University of Bath who happened to be moving to Geneva as well.  
After a few years as a diplomat and negotiator for the Government of Barbados I joined the World Trade Organization (WTO) as Deputy Aid-for-Trade Coordinator, and then I became the first Caribbean person in the Cabinet of a WTO Director General. After a few years at the WTO, I joined the United Nations International Trade Centre (ITC) as its first ever Chief of Staff. Both of these stints in international organisations were part of the vision I had years before in choosing to study international development at Bath.  
I am currently the Ambassador of Barbados to the United Nations and other international organisations in Switzerland, as well as non-resident Ambassador-Designate to Austria, Bulgaria, Croatia, Estonia, Hungary, Italy, Romania and Serbia. I have also become increasingly involved in issues around diversity and inclusion, served on two UN working groups around the issue of racial discrimination and was recently appointed an International Gender Champion.  
There is no such thing as a typical day when you are the Ambassador for a small but increasingly influential country such as Barbados. My day is a mix of management, diplomacy, negotiation, advocacy, research and strategy that can range from negotiating fishery subsidies at the WTO, to discussing human rights at the UN, to pandemic treaties at the World Health Organization and even to commercial diplomacy through shining a light on one of Barbados' most prestigious exports: rum. 
How did your studies help you to develop?  
My master's was a well-rounded course that gave time for debate and sharing different perspectives. That is invaluable. However, it was really the people involved that enriched the experience. Having a course with so many different nationalities meant there were sometimes some frictions or disagreements, but it also meant we were learning more than just theories: we were learning what made people and cultures tick. For me as a diplomat, that has been invaluable.  
However, the number-one most important actor in that year was the city of Bath. She is the most impressive character, with all her light and shade, history and modernity, rain and sunshine. I have been back multiple times, including to speak to students on my old course about the career options before them. I consider Bath one of my 'safe spaces' where I feel at home. 
What impact did your scholarship have on your time at university? 
The scholarship made it possible for me to study without falling into any form of student debt. I was able to focus 100% on the experience and not on the finances. Many years later, I was able to speak at an event at the British High Commission in Barbados on my time at Bath and how formative it was. Being part of the Chevening alumni community is also knowing you have inbuilt connections wherever you go around the world.