Keith's career has included time with tech industry giants such as Google and Facebook. Now based in Edinburgh, he is founder of his own business, Yuca. He shares his career journey, his time as a digital nomad and his top study hack...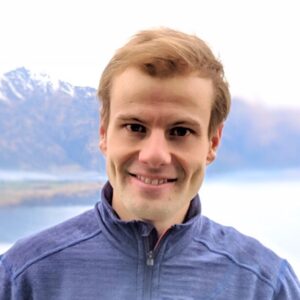 Why did you choose to study at Bath?   
I had a strong interest in business and knew of the University's great reputation. The 'thin sandwich' programme, which included two work placements, was particularly appealing to me as I was eager to gain real-world experience and position myself for success upon graduation. Additionally, Bath's reputation as a charming city with a relaxed pace made it an easy choice for me. 
Did you have a particular career in mind when you chose your course?  
I was pretty certain that I wanted to work for an internet company, although more on the online marketing side of things rather than something technical. I had dabbled in a few side-hustles just before and during my studies. Looking back, it's quite clear to join the dots and see how I've come to arrive at what I do now. 
Can you tell us about your experience of studying here? Any favourite memories, or places to go on campus and in the city?  
I really enjoyed the first year living on campus, as it just made it so easy to meet people and do things. We got lucky in our final year and were able to rent a flat right in the middle of the city, so we had a steady stream of friends popping by! When the weather permitted, I really loved hanging out in the Parade Gardens or punting on the River Avon. 
Describe your career journey since graduating. 
I landed a role at Google just one week after finishing university. I spent a couple of years there before moving on to Facebook for another couple of years. It was an incredible experience to be a part of these hyper-growth companies and gain such valuable exposure early on in my career.  
During that time, I also started making additional income by running some niche content websites, which led me to try out the 'digital nomad' lifestyle. I spent the next decade living in places such as Bali, Thailand, and Canada before settling in Edinburgh. Today, my business focuses on designing and marketing physical products that are sold on the Amazon marketplace. 
How did your studies help you to develop professionally?   
The BBA course provided a solid foundation in business fundamentals. However, I believe that my greatest growth came from developing critical thinking, communication, and decision-making skills. I've found that in many degrees, it's not necessarily what you learn but the skill of learning how to learn and think that becomes invaluable. The work placements provided me with an excellent opportunity to explore different industries and job roles, which helped me gain real-world experience and better understand my strengths and interests.  
What advice would you give to prospective students thinking about studying your course at Bath?   
Take advantage of trying out a bunch of things, such as sports and societies – it's a golden opportunity to experience as much as possible. A bit of a study hack is to hunt down past exam papers so that you can get a better feel for areas to focus on during the term. In summary: study smart and make the most out of this special time in your life!