Since graduating from Bath with her master's, Meghna is studying for a PhD and is currently Research Associate at The Alan Turing Institute in London. She was a recent recipient of the '75 at 75' India UK Achievers Honours in the Education, Science & Innovation category. 
She tells us about bridging skills gaps, being recognised for her work and how the 8 West postgrad lounge became a home from home...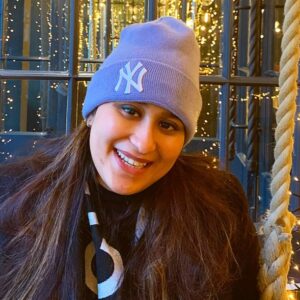 Why did you choose to study at Bath?   
My course provided me with core knowledge in mathematics and scientific programming, which I knew would help to start my career in artificial intelligence research. My supervisor Dr Tom Haines was key in building my first work in computer vision, which I specialise in now. 
Did you have a particular career in mind when you chose to study Data Science?  
I knew I wanted to pursue research in data science but I was quite unsure of which area. Thanks to my course, I had a good understanding of different facets of the subject and that helped me to choose a specialisation. 
Can you tell us about your experience of studying here? Any favourite memories, or places to go on campus and in the city?  
My favourite memory was going to the 8 West postgraduate lounge on the third floor and cramming for our projects together – about ten of us who were a close-knit bunch. We used to spend about ten to 14 hours each day there... it was a second home after our accommodation, Polden! 
What was your experience as an international student studying in the UK?  
I have been in the UK for ten years now. As an international student, I never felt like an outsider – my circle of friends, colleagues and supervisors has always been full of intellectuals and well-read individuals where I fit in quite well. 
Describe your career journey since graduating. What is a typical day like in your current role?   
Since graduating, I have moved on to pursue my PhD in computer vision at the University of York, which I am almost finished with. During these formative years as a full-time researcher, I have been an integral part of The Alan Turing Institute, where I have been a part of multiple high-impact projects working with different ministries of the UK government and defence. For these, I have been nominated for multiple awards and my work has been published in international journals. I have gained international recognition for my work through the prestigious India UK Achievers Honours in Education, Science & Innovation.  
I will soon be starting my work as a Research Associate at the Turing Institute in affiliation with the University of Cambridge and the British Antarctic Survey, working on climate AI problems. I hope to go on at least one Antarctic expedition during my time with them. 
As an early-career researcher, I tend to work on my own code but I also sometimes supervise undergraduate students with my primary supervisor. The rest of my work includes doing a lot of public engagement and talks (at least twice per month), as well as collaborating with ministries and researchers all over the world. 
How did your studies help you to develop professionally?  
One of my modules taught me the core knowledge in mathematics, statistics and scientific programming that has been crucial for the career path I have taken. Coming from a biomedical engineering background, I believe the course did a fantastic job of bridging any gaps in skills for the work I wanted to do.  
What advice would you give to prospective students thinking about studying your course at Bath?  
For all the students planning to study in the Department of Computer Science, this is an amazing place to strengthen your core skills. The coursework might look daunting at first but it's worth the effort. The department has the best of the UK's supervisors, and working under their guidance during your time here will have a lasting impact on your career. Your cohort and supervisor are the best forms of support during this journey: these relationships last a lifetime.