After graduating from Bath, Beth went on to further her knowledge in programming and is now Quality and DevOps Specialist at ROSEN in Newcastle. She tells us about learning to code, picnics by the lake and preventing leaking pipes!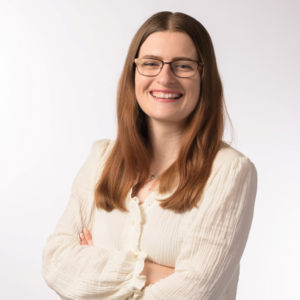 Why did you choose to study at Bath?  
The second I walked onto campus, it felt like somewhere I belonged. The academic staff were welcoming and helpful, and all very passionate about the courses they teach and the research they're undertaking. The University's reputation for professional placement years was also really appealing to me, as I wanted to get some work experience during my degree. 
Did you have a particular career in mind when you chose to study Physics with Astrophysics?  
Initially I wanted to go into academia – doing a PhD and so on. But a few months into my course, I decided I didn't want to do that anymore. The great thing was that it didn't matter that I changed my mind: I had so many options available to me thanks to both my placement year at PwC and all the transferrable skills I learned through both my course and getting involved in extracurricular activities. I learned to code for the first time during my degree, and now I write code every day! 
Can you tell us about your experience of studying here? Any favourite memories, or places to go on campus and in the city?  
I loved studying at Bath. I loved hanging out in 4 West cafe and in the Lime Tree – I'd highly recommend their pizzas. A favourite memory of mine is every year once the summer exams were done, my friends and I would have a celebration picnic by the lake in the sunshine. It was something I always looked forward to! 
Describe your career journey since graduating. What is a typical day like in your current role?   
I learned to code during my studies at Bath, so after graduation I completed a graduate apprenticeship in software development to help me learn the more formal elements of programming. I did this while working full-time as a software engineering consultant, where I worked on a range of safety-critical projects in the rail and space sectors.  
I got a new job at the start of 2023 working in Quality and DevOps. The work I do now helps to ensure the integrity and safety of large transmission pipelines that carry hazardous substances, making sure they aren't at risk of leaking or failing.  
A typical day for me involves having regular catch-ups with my team members to get updates on their work; developing training materials and running workshops to upskill my team; and writing code to help automate our processes and monitor the quality of our products, so that users can trust the software to give them the right information. This is key when that information tells you about the safety of a pipeline! 
How did your studies help you to develop professionally?   
I love being in a job where I get to use a lot of the knowledge and skills I learned by studying Physics. I gained an experimental mindset from my time in the laboratories, and became creative by completing projects where we had to build accurate spectrometers out of CDs and cardboard boxes! I also get to use Physics theory such as fluid mechanics in my line of work. 
What advice would you give to prospective students thinking about studying your course at Bath?   
I couldn't recommend studying Physics at Bath more highly! The lecturers are amazing, and taught me so much - not just in terms of scientific theory, but also how to be a better thinker and experimenter. The course itself is also really interesting, and I still like to keep up with astrophysics discoveries even now.