Physics graduate Adriana is currently working as an Engineer for Indra in Madrid, in her native Spain. She shares her tips for broadening your academic horizons, making the most of university life and finding the best coffee in Bath...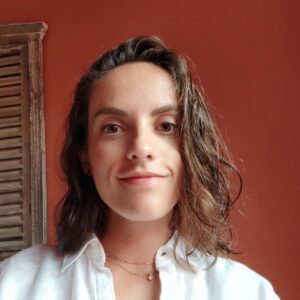 Why did you choose to study at Bath?   
From a young age I knew I wanted to study physics, and Bath was one of the top universities in the field. What really sold me on the idea of attending the university was the beautiful campus and how everyone was extremely kind in the department when I went to visit during an open day.  
I really liked the labs and how the Physics Square made me immediately feel like I was at home. I had a lot of fun that day and, by the time I flew back home, I was sure Bath was the right place for me. 
Did you have a particular career in mind when you chose your course?  
I wasn't exactly sure what I wanted to do 'when I grew up' but I did know I wanted to work somewhere related to aerospace – and especially within the research industry.  
Can you tell us about your experience of studying here? Any favourite memories, or places to go on campus and in the city?  
The four years I spent at Bath were probably the best years of my life. For the first time ever I was independent, which was scary at first, but I soon realised I had the perfect opportunity to discover myself and define who I wanted to be in the future.  
I met some of my best friends during those years and, even though I wish I could see them more often, we've kept in touch and still have Skype calls at least monthly to catch up.  
I have so many fond memories of the city, including ice skating every winter in Victoria Park, wandering around the Christmas market, going out for drinks at Turtle Bay's happy hour, getting covered in paint powder at the Holi festival and getting to know our lecturers during their pub lectures.  
I highly recommend grabbing a coffee at Rosario's near the Guildhall (best coffee in the city!) but, mostly, I recommend getting lost around the streets and discovering as much as possible of what Bath has to offer – which is a lot!  
What was your experience as an international student studying in the UK? Do you have any advice for others?  
The first couple of months were tough for me as they meant lots of changes: not only a new start in my academic career but changing countries, homes, cultures... and all without really knowing anyone in the UK. However, as time went by, I met wonderful new people and settled into my new life.  
As far as advice goes: just trust the process, and be open to meeting new people and going on random adventures. Make sure you always have laundry money and be wary of the wind tunnel under Norwood House!  
Oh, and don't be afraid of asking questions: most lecturers will be happy to help. 
Describe your career journey since graduating. What is a typical day like in your current role?   
After I graduated, I got a job at a solar renewables company in the UK. I enjoyed working there and learned a lot about the industry but, ultimately, I wasn't using my degree as much as I had initially hoped for.  
I moved back to Spain due to the pandemic and landed my current job at Indra, where I work as an engineer developing algorithms for the S3TSR (Spanish Space Surveillance and Tracking Surveillance Radar). This is a radar managed by the European Space Agency that tracks objects in the low Earth orbit region. Indra is a very fast-paced environment where you are constantly learning new things; I'm loving every minute of it. 
A typical day at work right now consists of a couple of meetings in the morning to discuss the project and what we need to do to move forward, followed by a lot of programming and brainstorming new algorithms to resolve the current issues the radar is experiencing.  
How did your studies help you to develop professionally?   
Physics can be a very broad and abstract subject that is not always easily applicable to real-life jobs. However, the strong mathematical base I developed during my degree, as well as the way we were taught to approach problems, has made it much easier for me to learn and adapt to new ways of looking at things. 
What advice would you give to prospective students thinking about studying your course at Bath?   
Study hard, enjoy learning tons of things in the labs and definitely take the opportunity to explore modules outside your degree. I took an engineering module during my third year, which was a lot of fun and helped me put my physics knowledge into practice.