Ajaz studied Business Administration for a year in the early '90s, and has since founded AKQA, 2023's Digital Agency Global Network of the Year. In 2018, he was awarded an honorary doctorate by the University in recognition of his 'courage to care' approach towards both his clients and his staff. He tells us how Bath's inspirational culture has had an impact throughout his career...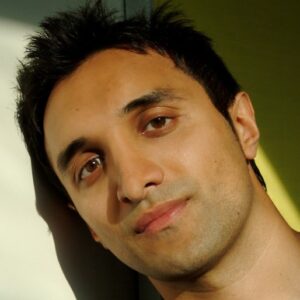 What drove you to set up AKQA, and did you always have a career in advertising in mind? 
Back when I was a teenager, I had this incredible opportunity to work for one of the world's largest software companies. It was during those formative years that I learned about business and the immense potential of technology when it's made accessible and intuitive.  
The drive behind starting AKQA stemmed from a deep passion for design and storytelling. I wanted to create something entirely new — an innovation agency that could bring together the worlds of art and technology. My goal was to bridge that gap and cultivate an environment that attracts talented individuals to collaborate with clients to launch groundbreaking, influential and valuable work. 
Although I didn't specifically have a career in advertising in mind, I realised that communications provided the perfect platform to leverage technology and design. I don't think of AKQA as an advertising agency because we go way beyond the notion of 'advertising': everything a brand does tells a story. For everyone in our team AKQA is a canvas, a vehicle for channelling entrepreneurial and creative energy to make a positive difference.  
Can you tell us about your favourite memories of Bath, or places to go on campus and in the city?  
During my time at Bath, I formed lifelong friendships, gained invaluable knowledge and laid the foundation for my entrepreneurial journey. Towards the end of my first year, I was asked by the admissions team to appear in a recruitment video. I was happy to participate because I can't help but be effusive about the University! 
The city is a World Heritage Site and is therefore a vibrant hub of culture, history and creativity. It has both natural beauty and breathtaking architecture. There are so many tranquil places for relaxation and reflection.  
On campus, there's a strong sense of community that fosters a joyful and productive environment for learning and personal growth. Even though the University has very high standards, there's never a sense of elitism, pretension or entitlement – it cultivates a genuine atmosphere that encourages collaboration and inclusivity.  
Describe your career journey. What is a typical day like in your current role?   
My career journey has been exhilarating and filled with constant learning and change. The main responsibility of the founder is to build the best team and ensure the core values are not compromised. Over the past five years scaling AKQA to meet the needs of our clients, while keeping our total commitment to quality and creativity, has been my top priority because we now have over 6,000 employees. 
Every day brings new challenges and opportunities. A typical day involves assessing the progress of ongoing projects and engaging with our clients and leadership team to offer guidance and support where needed. I also get to work on client projects every day, which is one of the aspects of the job I enjoy the most. Additionally, I'm always keeping an eye on our key performance metrics, making adjustments where necessary, and staying informed about industry developments and cultural trends to ensure AKQA remains at the forefront of digital innovation. 
How did it feel to receive an honorary doctorate from the University? 
Every award we win is a team effort. Receiving an honorary doctorate from the University is a tribute to the hard work and dedication of the entire AKQA team and our contributions not only to the disciplines of design and technology, but also to the broader entrepreneurial community.  
The award represents the impact AKQA has had on the design and communications industry. This and all our recognition further fuels our commitment to creating a culture of excellence. My honorary doctorate is a gift that serves as a testament to the values and compassion of my parents; the kindness and generosity of my friends; and the commitment and ingenuity of my team. It is a pleasure to be associated with this remarkable institution. 
What drives you to give back to Bath through volunteering with groups like Bath Entrepreneurs? 
Bath played a pivotal role in shaping my journey as an entrepreneur — it's where I first discovered the potential of the internet. It's incredibly fulfilling to witness the growth and contribution of young minds to the entrepreneurial ecosystem. I was lucky that every adult in my life when I was growing up was someone that's kind, and I realise how rare and fortunate that is. I'm enthusiastic about encouraging the next generation of innovators and I'm super proud of their achievements.  
What advice would you give to prospective students thinking about studying at Bath?   
Your studies at Bath are about much more than just acquiring knowledge; they're a time for broadening horizons, personal growth, building a network and intellectual exploration. Bath offers a supportive and inspiring environment ,and will hopefully provide a different way of looking at the world and help shape you both personally and professionally. 
While at the University, take advantage of the world-acclaimed sports and training facilities that have helped many Olympic and elite-level athletes. The knowledge, connections and work experience you gain during your time at Bath will undoubtedly help shape your future success and contributions.