School of Management OYW Delegate 2020/21
---
Introduction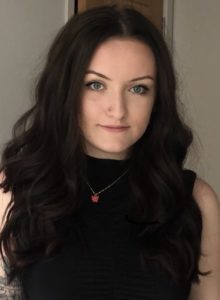 To those who may not know me, my name is Ciara Sherlock and I am your OYW Delegate from the School of Management. I am currently a second-year student at the University of Bath, studying BSc Management with a placement year. I am also fortunate enough to be a recipient of the Gold Scholarship Programme a.k.a Susanne Admiraal Scholarship.
When applying for this opportunity, I had no idea what would come of it let alone being successful. I think for anyone who wants to apply it could be useful to know why I applied and what I mentioned for my application to be considered!
Throughout my time as the OYW delegate, I hope to give as much information as possible. This will include posting a series of blogs. At present I have the following planned:
This one! Introducing myself!
Applying to be a One Young World Delegate
My One Young Project at a glance
Why I applied
For those reading, you may be wondering why I applied for this opportunity. It was a few weeks into lockdown and my summer employment opportunity in Canada had been postponed till next summer due to COVID-19 restrictions. I was eager to find other opportunities before placement applications start to make my CV more attractive. Then out of the blue, as always the department sends out this new opportunity. I wasn't able to attend the talk on-campus that was provided in relation to One Young World. But through a bit of research and some videos later I felt I had enough information to support my application.
The main things about this opportunity that appealed to me were the following:
Part of my desired career path is working internationally, or for a global company. It's important for me to gain any international experience, no matter how big or small to illustrate that I am open to new cultures and am versatile. The summit will be held in Germany, but will have many other nationalities attending. This was super exciting for me as I think it's the only way I would be able to interact with so many different cultures, personalities, and individuals in one place.
Through the Gold Scholarship, I have been lucky enough to attend three different networking events, with various alumni, staff, donors, and business individuals present all there to let us practice networking. But, to step this up attending the summit would allow me to make connections with people I would have never met otherwise. In hope that we can later help each other out, or they can provide me with their own contacts. Since I've ever known it's always been who you know rather than what. It's a hard pill to swallow for a student like myself with little to no network coming from a disadvantaged background. But with the scholarship and the university's incredible network, I have been able to secure this role, and a job with CCUSA Canada next year. I think it's important to make the most out of the university's best asset; their network.
The two topics I am particularly interested in hearing about are Education and Climate change. From my knowledge, I will be listening to some of the world's finest leaders and activists about such issues and their own personal experiences. Later, we will partake in workshops which will allow us to work collaboratively to find solutions to some of these issues. Practice what we've learned.
In particular, I would like to advance my efforts as an Outreach Ambassador and find a way to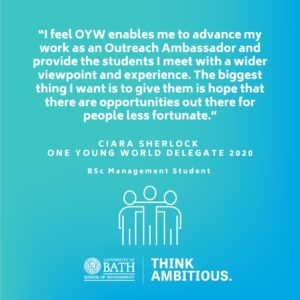 raise awareness of the opportunities available for disadvantaged students. For many, higher education seems too far from reach, but there are many students who are living proof that it is not so. For me, I was very lucky that my Sixth Form and the University of Bath were advertising an outreach program called 'On Track to Bath'. I had always wanted to go to Bath, but my English and Maths grades weren't high enough alone to be made an offer. But this program shed a bit of hope! This helped show that there was more to me than just those grades, and was one of the main reasons I managed to get into university. Ever since it's been a whirlwind of being offered immense support in terms of scholarships & bursaries, but also skill-developing opportunities that allow me to fill the gaps in my skill set that others more well-off would already have.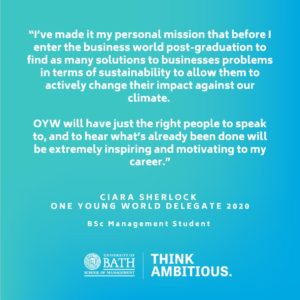 Regarding Climate Change, as per my course and through previously studying Geography at A-Level. I have always wondered why haven't businesses done more to mitigate their impact on the environment. I later realized it's really all about money and the consumers. Until the consumers start becoming more particular about it, brands are less likely to feel the need to change. Nor do they want to lose profits trying to become eco-friendly. But as climate change is becoming more and more apparent I have seen many companies beginning to take the first step to change. As a businesswoman and employee, someday I want to work for a company that wants to change, who is actively trying to do so. Instead of being scared of change, I want to help businesses welcome it. Hearing about the current techniques that are being practiced around the world in regards to sustainability will not only enrich my understanding of my future modules. But also give me real-life examples to bring to the workplace and hopefully implement.
Thank you for reading my first blog during my time as an OYW Delegate, and keep an eye out for more throughout the year!
---