Sarah Bloomfield (School of Management) was awarded £500 to trial a creative research method technique - a pizza-making workshop designed to elicit participants' reflections on a 'community' village shop versus a 'commercial' village shop.
Sarah's research is looking at 'hybrid organisations', i.e. organisations that try and do more than one thing at once. A social enterprise, like the Big Issue, is an example of a hybrid organisation, as it tries to achieve social good through commercial means. Sarah was keen to use creative techniques to further understand how people are feeling rather than relying on common research methods such as interviews. She knows the people who run the village shop and café in her local community area, so she decided to place her experiment there.
In this pilot project, Sarah worked with the staff and ten local volunteers to create pizzas and talk about them. She gave them pizza bases and asked them to use toppings to produce two pizzas: one that they felt represented a 'community' village shop and one that represented a 'commercial' village shop. The idea was to generate a reflective space and use the pizzas as a way of increasing engagement and talking about issues. The data collected was taken from the volunteers' explanations of their creations that indirectly showed their emotions towards the two enterprises and the discussions around them. Some words that arose included: "exciting", "care", "mundane", and "boring".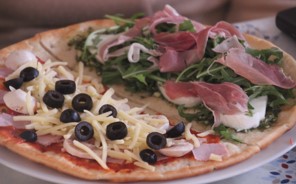 One of the pizzas created at Sarah's workshop
Sarah was initially unsure about whether the method would work, but she feels that pizza worked well in this context and it made her feel more comfortable being involved in the research setting. The workshop taught her a lot about using creative techniques, combining them with more traditional techniques, and the importance of matching research questions to techniques. Sarah has now run the workshop twice in two different contexts and it has been requested for a third time due to its success.
Her original plan was to do a theatre workshop. Sarah's aim was to generate data from actors' portrayal of participants' stories. However, she found that it would be too expensive to pay for the actors' time, so she decided on the pizza workshop instead. This was because she felt it would allow her to generate emotional data, and it was inclusive (all participants were over 50 years old).
She has presented talks on her project at conferences with a focus on her use of creative techniques as a research method. These have taken place for the academic audiences at the School of Management PhD conference at the University of Bath, as well as a conference in Spain which was funded by Erasmus+ where they were trial running a new Masters course around how creative arts based methods can be used for gathering empirical material.
Contact Sarah (s.bloomfield@bath.ac.uk) for further information about her project.