How can you use music to engage with industry partners? This is a question Susan Lattanzio has been thinking about as part of her Impact and Knowledge Exchange Fellowship to support the Centre for People-Led Digitisation.
We caught up with Sue and songwriter Sally Thompson to talk about why they chose to create a song for the Centre, how they've gone about co-creating the song and what it's been like working with researchers and industry partners.
Sue is the Research and Industry Engagement Manager for the Made Smarter Innovation:  Centre for People-Led Digitalisation, which is led by the University of Bath. Her research focus is transdisciplinary engineering – that is, bring together researchers and academics from different disciplines together with non-academic stakeholders in order to solve a real-world problem.   
Why did you apply for an IKE fellowship?
Sue: I am the Research and Industry Engagement Manager for the Made Smarter Innovation:  Centre for People-Led Digitalisation.  Our research aims to improve the outcomes of the adoption of digital technologies within the manufacturing sector.  This is a complex real-world challenge, and solving it requires different disciplines and non-academic stakeholders to work together.  The main reason for applying for the fellowship was to learn skills and techniques that would help me bring these communities together and enhance the impact of our research. 
Why did you choose to create a song as part of your IKE fellowship?

 
Sue: I met Sally a few months ago at a GW4 sustainability event in Exeter.  We were speaking, and she mentioned how she had been commissioned to write a song for a charity.  We then started joking about how we should commission a song for the Centre for People-Led Digitalisation.  Fast forward a few weeks, and I had the opportunity to apply for public engagement funding as part of the IKE fellowship.  Although it had started off as a joke when I started researching, there is a lot of literature to support how music can be used as a means to unite a group and communicate a message, but from what I could tell, we weren't exploiting that as a means for public engagement with academic research.  The fellowship gave me the opportunity to try something new and exciting.  I'm not sure how the song will be received – but the process of creation has been extremely positive so far!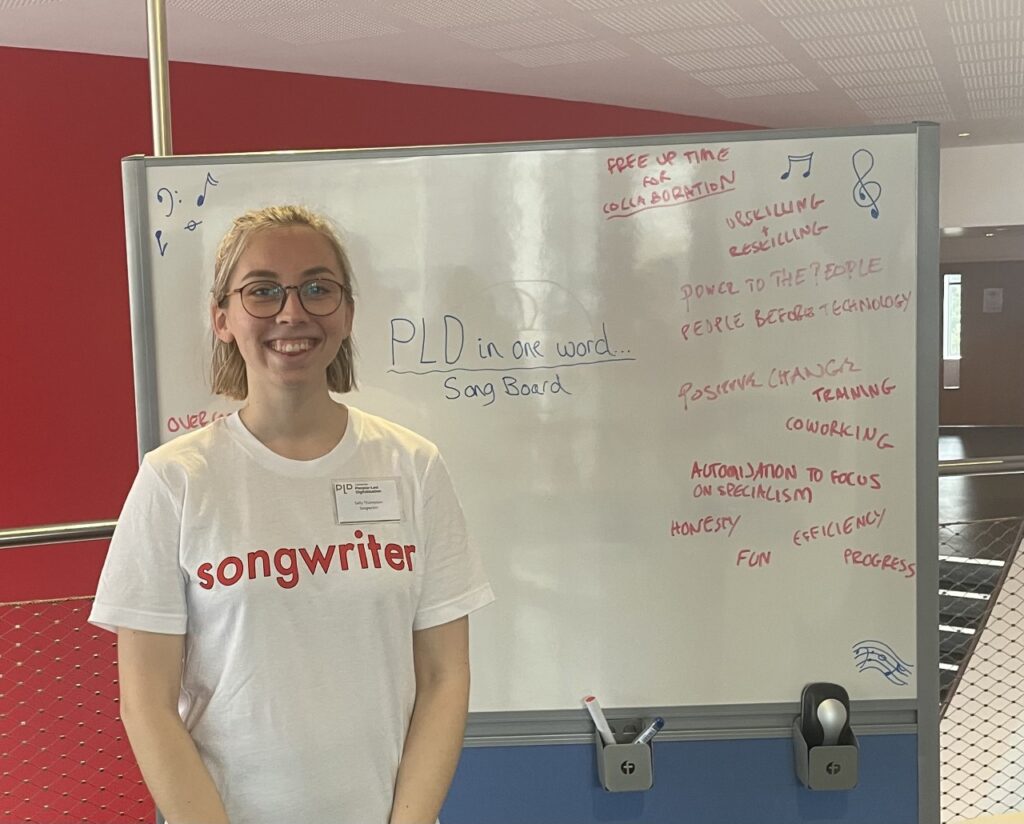 Sally Thompson
After completing my Masters in Global Sustainability Solutions at the University of Exeter, I am now a Community & Account Coordinator for Square Mile Farms (an urban farming company), and a research assistant at the University of Nottingham. I am also a part-time musician and was recently commissioned to write songs for the charity Rite to Freedom. 
How do you go about creating a song based on a research centre? 
Sally: Usually, when I write a song, I use a story or experience (either my own or someone else's) for inspiration. These often have a strong emotional undercurrent, which I can embrace in order to give the song a certain 'feel'. Writing a song based on a research centre is almost the antithesis to this, which initially made me feel apprehensive. However, through attending the event and speaking to so many people, I now have a strong understanding of the goal of the research centre and its importance. This is the story that I will communicate – why is the centre striving for people-led digitalisation,  how is it doing this, and what  is the impact?  
Collating keywords and phrases during the event from the academics and industry partners is integral to developing this narrative, as it enables me to discern what particular aspects of the project are most valued. Now I will play around with the words and string them together, choose a key, and write a melody!  
What's

it like to work with academics and industry partners as a songwriter? 
Sally: I am thoroughly enjoying the collaborative nature of this songwriting project and the co-creation of lyrics. In addition, I can appreciate the value of receiving input from academics and industry partners, as they conduct such an eclectic mix of work, and benefit from their involvement with the centre in a variety of ways. I am accustomed to working and liaising with academics, but never with creative output. I think the conversations that I had with the attendees about the project and the process of songwriting have been mutually beneficial, and there is a shared enthusiasm for pursuing this new form of public engagement.  
When can we expect to hear the finished song? 
Sally: I will be working on the song over the coming months and have it ready to perform at the next Centre event being held in June.  
Rob Cooper is a Public Engagement Officer at the University of Bath