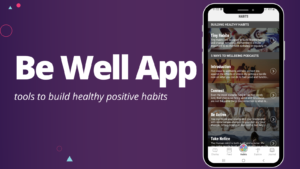 In the second of my blogs about pastoral support for our students, I chatted to Rob Heyes from Student Support about the new Be Well App and other resources that students can access to help manage their wellbeing and mental health.
Welcome Rob, thanks for joining me to talk about the new Be Well App that has recently been launched by Student Support. Could you just introduce yourself and explain a bit about your role at the University and what your team does?
My job title is Wellbeing Promotion and Induction Team Leader. Myself and my team promote Student Support and our wellbeing interventions, and we deliver some wellbeing activities.  We also coordinate Induction from a central perspective working with and supporting departments as they welcome new students, this includes a focus on the international experience during welcome and throughout the year.
Thanks, that's really helpful. So could you tell us about the new App, what it can do, and how students could use it?
The Be Well App is essentially a great resource for students to help manage their wellbeing.  It has a number of functions, firstly it acts as a habit tracker, a bit like a fitness tracker where students can log healthy habits against the 5 ways to wellbeing.  So they can log exercise, mindfulness activities, journaling, learning and so on. 
There is also an AI called Charley that helps the students identify tiny habits that they can introduce into their daily lives, it then helps to schedule these in and log them.  The concept feels very much like the book Atomic Habits by James Clear for those that have read it. A tiny habit could be 30 seconds long, so is very achievable, but you can stack habits to improve your overall wellbeing. 
Like most platforms it has a newsfeed so we can let users know about wellbeing events and surface resources to them during the year when they might be useful. 
Finally, it's full of self-help resources and tools, think short podcasts, guided breathing exercises, mindfulness tools, pomodoro timers and plenty of signposting.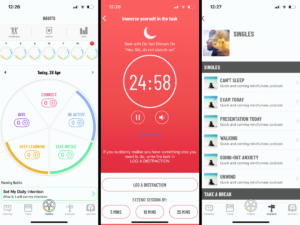 Images above show the habit tracker, Pomodoro timer, and selection of short podcasts in the App.
That sounds like there are lots of resources on there?
Yes it's really comprehensive and built on well-known wellbeing models. The real benefit for us is that it's customisable so we will be working to continually add new resources that would support students.
What have students thought of it so far?
It's early days but we already have plenty of students using it and anecdotally the Journaling and mood tracker seems a very popular feature.
Do you think it would be a helpful tool for staff who support students to be aware of?
Absolutely, I think any staff member that interacts or supports students would find the App a really useful tool to refer students to.
Can you give us an example?
Yes, firstly, it's worth saying this doesn't replace face to face services like Wellbeing but there are self-help resources that can support students on a number of topics such as worry or stress, there are short (10 minute) podcasts on topics such as procrastination, anxiety, stress, sleep and more.
I think a couple of my favourites would include the 3-minute podcasts called 'before an exam' and 'before a presentation' both are short to help calm and compose yourself just before you go into and exam or presentation.
I also think the short, guided breathing exercises will be a helpful tool for lots of people.
That's great, and with assessments coming up in a few weeks' time are there any tools on the App that could support this?
The top three we are highlighting for exams at the moment are:
Pomodoro timer to help plan revision and breaks
Exam Stress podcast – How to recognise stress and tips to manage it
Before an exam podcast – 3-minute podcast to get calm and composed before the exam.
I'm sure we are all aware of the Wellbeing Service for students who are struggling, but alongside them and the App are there other options we could signpost students too?
Yes, there are always plenty of resources available. The Be Well section on the website is a good place to start.  It highlights the app, Talk Now which is a 24hr support line and the 6 ways to Be Well which offers some good tips for students about their overall wellbeing.  We also have wellbeing events such as dog walking and gardening and a number of courses and workshops.
I think we often forgot the importance of taking breaks and looking after our wellbeing and how these can actually improve our productivity. So, we like to highlight that to students and still offer those wellbeing events to help them get away from the stress of revising.  Who doesn't want to walk a dog for a study break?
This can be a very stressful time for students - do you have any other advice for staff supporting students, or other resources they could signpost them to?
We have already mentioned Wellbeing and Talk Now which I think are two really good places to signpost students who need support.  It's also worth mentioning the support from other services in the University such as Skills and the Library who have a comprehensive Support for exams guide
Thanks so much for taking the time to talk to me Rob, I'll definitely be signposting my personal tutees to the App and other sources of support you have mentioned!
The App is available to download for free on IOS and Android. You can find out more information about the App and direct download link on the Be well app webpage.
If you have any questions about how you should support a student, or you need further guidance, please read the Student Services webpages for staff or get in touch with the Staff Advice Line on 01225 384321 or extension 4321. The advice line is available for all staff.