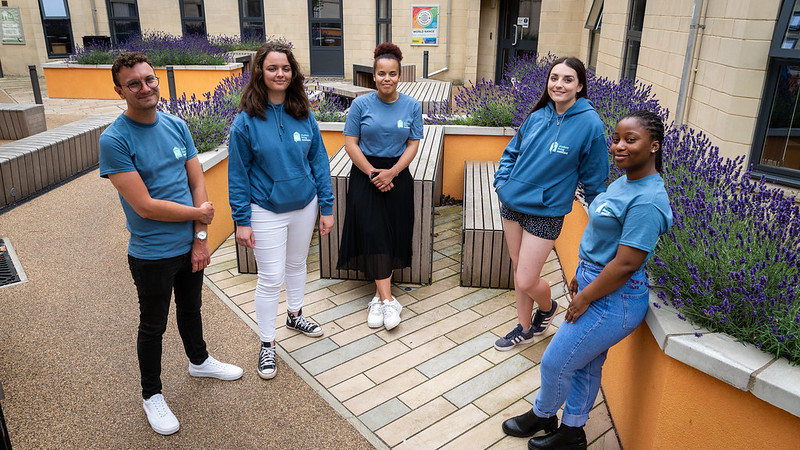 For my latest blog, I have spent some time with the Student Living Support Team to find out what we do to support new students to the University and particularly in our accommodation.  
I met with Matt Waldron, Student Living Support Manager, and Jack Ingram, who has just started as a Student Living Assistant (SLA) for this coming academic year.   
Matt's team run a residence life programme to support transition into University accommodation and help students get the best experience from their time living with us.  Their remit includes social events and activities, life skills, and student support and engagement.  It also includes the peer-to-peer role undertaken by the SLAs. The SLAs are all returning students who have previously lived in our halls of residence and therefore understand the challenges that students might face.  Jack lived in Quads on campus last year and is going into his second year of a Mathematics degree. 
Speaking to Jack was a real pleasure.  He is so enthusiastic about the role and how he is going to be able to support students this year. I asked him how he thought he would be able to help other students and he talked to me about how he had gone through a difficult period last year when he experienced loneliness.  During this time, he came up with a number of ways to tackle loneliness and is keen to share these with others.   
The student living support team work closely with other services within the University to ensure the programme is as effective as it can be. There is a whole host of activities and events that are provided (free of charge) and the SLAs are there for general welfare checks and targeted interventions.  Last year there were six hundred 1:1s undertaken by the SLAs with students who reached out to the team. They can help deal with a wide range of situations, some of which are outlined here: Student Living Scenarios. 
The support available to students in our accommodation is amazing to see and is certainly one of the key support mechanisms provided to our students, particularly in their first year.  The fact that SLAs are returning students means that not only do they have very recent and relevant experience, they may also seem more approachable by fellow students. They are key to building a real sense of community and care amongst our students in accommodation. 
As we start a new academic year and welcome thousands of undergraduate and postgraduate students into accommodation on campus and in the city, it is worth taking a few minutes to read about the Student Living Support team. It might just help when a new student comes to us struggling with something and needs some extra help while living in our halls. 
Thanks to Matt and Jack for the great chat! 
If you have any questions about how you should support a student, or you need further guidance, please read the Student Support webpages for staff or get in touch with the Staff Advice Line on 01225 384321 or extension 4321. The advice line is available for all staff.