As part of University Mental Health Day 2023 (Thursday 9th March), I took the opportunity to find out about an important male mental health initiative here at the University.
Earlier this month I had the pleasure of meeting one of the University's Talk Club Captains, Caine, who is an MSc Health Psychology student.  Caine got the role after seeing an advert on the web and realising that not only could this be a fulfilling part-time job, but it could also benefit his studies.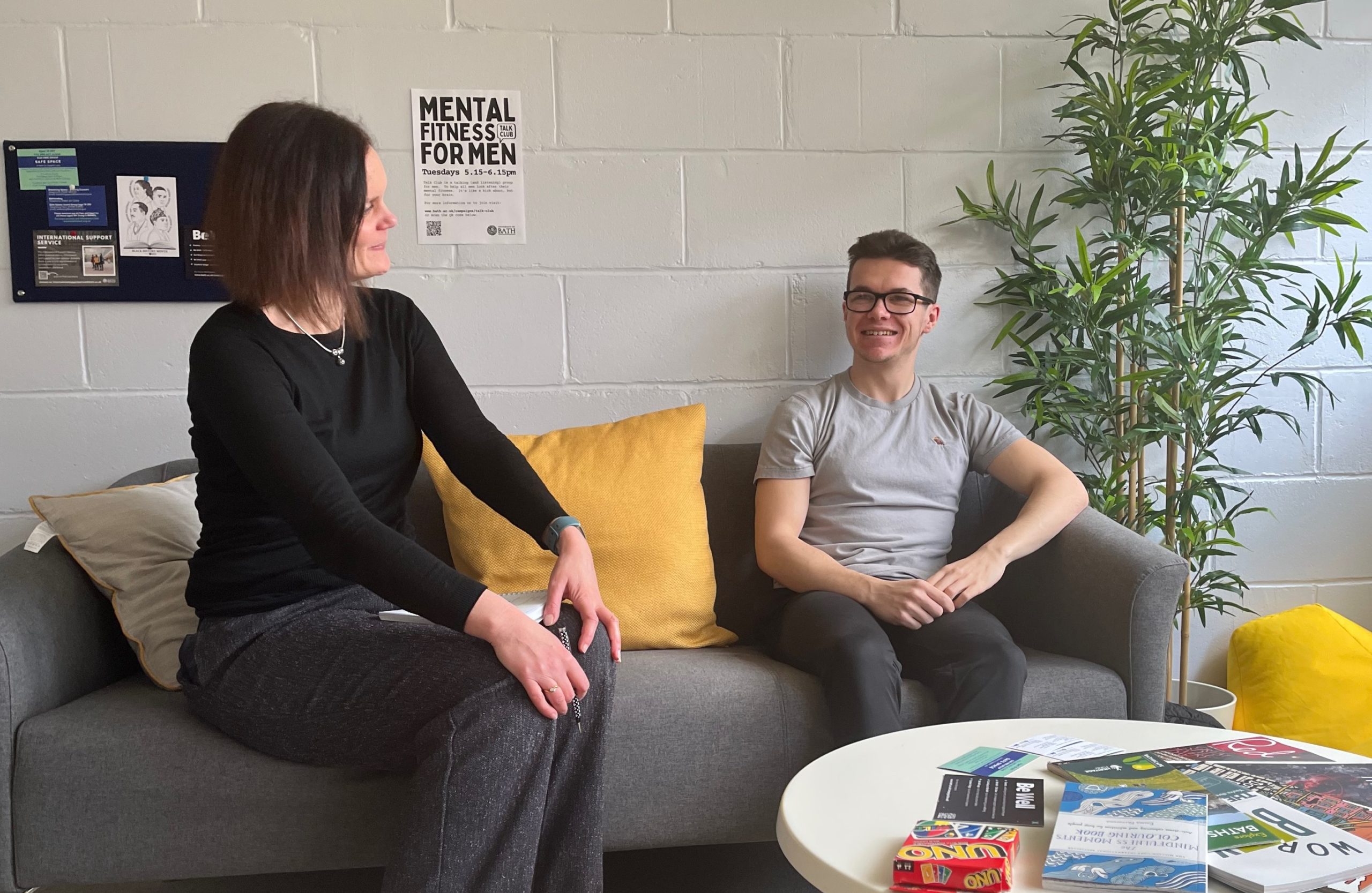 Talk Club is a talking and listening club for men, helping to keep them mentally fit by giving them a secure and private space to share and support others. There are no therapists, and there's no judgement – just men, in a private and safe space, listening and talking. Research shows us that men are less likely to seek support or speak about mental health difficulties compared to women. There is still a stigma around specifically male mental health, and the more opportunities get promoted the easier it will be for those who are struggling a bit to come forward.
Bath University's Student Talk Club is an excellent example of the preventative work we do here at the University. It was established following a request from students at Bath, to have a student-led space for students who identify as men, to get together and talk. The University's Talk Club runs every week, in person, and in his role as Captain, Caine, who has received specialist training to deliver this project, facilitates the sessions along with another trained student Captain, Andre. Based on the National Talk Club model, every session follows the same simple structure which helps to break the ice and enables everyone in the group to share how they are and be listened to by others. Each session starts with the simple questions: 'How are you? Out of 10?'.  Before moving on to talk about what they feel grateful for and what they are going to do for their mental fitness that week. Students don't need any kind of referral to go, they can simply sign up from the webpage and they'll get a weekly reminder it's happening. Students can come and go as they please, whenever they need to talk and be heard.
The sessions take place in Cotswold House which is somewhere I have never been to before this interview. It is a hidden treasure on the campus – a welcoming and homely space (thanks to the Campus Services & Student Support teams). Caine tells me that there is normally a small but diverse group of students who come along to the sessions and that the numbers have grown since the sessions first started running last year.
This is just one of many mental health initiatives that we are offering in the Uni and is part of our MENtion It campaign supporting male mental health. Students will often go to the person they feel most comfortable with to discuss a problem or concern, this could be their unit lecturer, personal tutor, supervisor, an administrator, or adviser. If you think Talk Club or any of the other initiatives may be beneficial to one of your students, please do signpost them:
If you're interested in learning more about our work around male mental health or want to contribute to our male mental health working group please contact Rob Heyes in Student Support: r.heyes@bath.ac.uk