When I moved to Bath, I missed my undergrad group of girlfriends. I had just spent a year of being locked down with my sister and I was in desperate need of a girl group to hang out with. So I set up what would become the main group chat for organising the women's events and added the women in my PhD year. The idea was simple: we try to add as many women in the department as we could, then we organise a brunch trip (Bath is undeniably one of the best cities for brunch).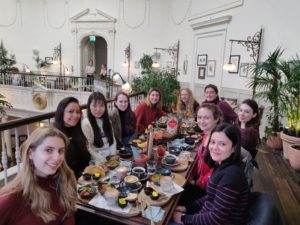 Within a couple of months of me moving here, we managed a brunch at the cosy club with people spanning across many year group intakes. Since our first brunch in the autumn of  2021 we have taken part in
A coffee and cake in town
Another brunch at the botanist
An afternoon tea at sweet little things
Mini golf
A board games afternoon
A spa trip
A BBQ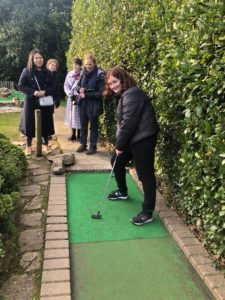 And we have already started planning our next event: a coffee and cake to meet the new PhD intake. We probably no longer count as a brunch club at this point but we have fun doing the things we do! The womens brunch club has brought together the women in the department and has been a big part of our social calendar. We get a good turn out at each event and most women in the department have come to at least one event. The department has even given us funding to help pay for these events.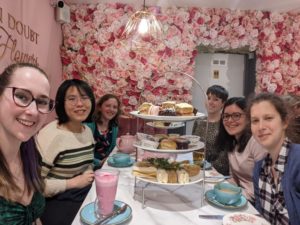 Having a strong community of women supporting each other in such a male dominated field is super important to me. I'm really glad that we've been able to start this network. The department is also encouraging other networks to be started as there is the funding to extend to similar projects. I could not encourage you more to take advantage of these opportunities.
If you would like to get involved please contact me (Carmen van-de-l'Isle) for details and to be added to the group chat.