Our weekly review of the top news shared by the University of Bath across its corporate social media channels.
News about our student recruitment
We created a Facebook event linked to our Facebook page for the Postgraduate Virtual Open Day in November. This reached 1,666 people.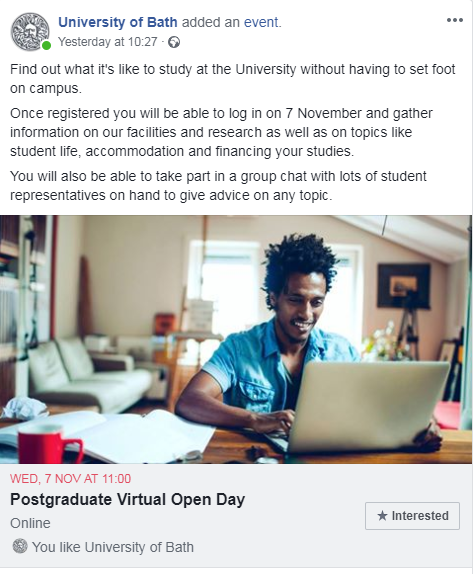 News about public engagement
The I-SEE is hosting an event with speaker Robert Llewellyn. We shared this news on Twitter and reached 5,781 people.
News about student experience
Student Services are running several extended 'welcome weeks' and this week was Be Well Week. As part of this activity they held a 'Conversation Couch' for World Mental Health Day, and we promoted this on our twitter feed. This tweet got 2,611 impressions.

News about our research
Researchers from our Centre for Sustainable Chemical Technologies are working on ways of recycling plastic together. We shared this announcement on Facebook, and the post reached 6,367 people.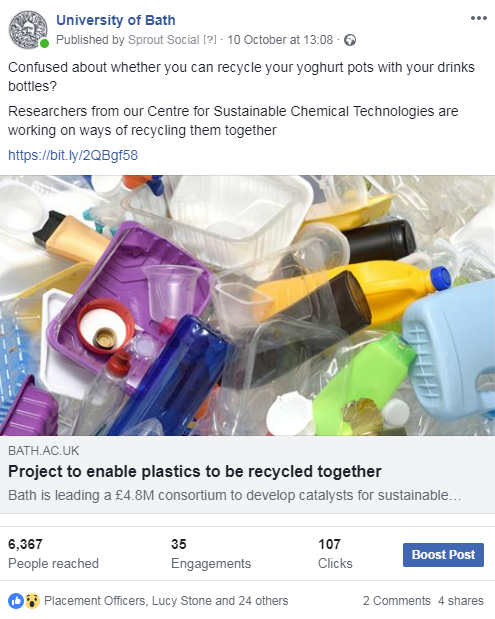 News from our social media community
We shared a photograph from one of our followers on Instagram. This post had a reach of 5,267 people.