Everyone wants to find their crowd at university. Everyone wants to find people they identify with, activities they love doing, events they look forward to attending. Some students will relate to course mates, bonding over late-night revision sessions and that one unanswerable question in the tutorial. Others will turn to societies, and peruse the hefty list of hobbies, values, and beliefs to find their people. For me, it was a winning combination of the two.
September 2014 was the month I became a chemistry student at Bath. All I ever wanted was to do was to be a scientist, and to belong in a department with like-minded people. As soon as I arrived, I signed up for the Bath University Chemistry Society: 'Chem:Soc', and that's where it all started. I attended every social going, making new connections and getting to know my peers. The Chem:Soc Christmas meal 2014 was distinctly notable, as here was my earliest memory of the formation of my chemistry friendship circle. I'll always think well of the West Gate pub for that!
The focal point of this year however, was the Chemistry Ball. Held at the Roman Baths and Pump Rooms, the night promised panache, class, and the opportunity to see our lecturers unleash their inner party animals. For the weeks building up the Chem Ball, I could barely contain my excitement! Little did I know that the Ball was going to very much shape my second year experience at the University of Bath, for this was the night that inspired me to run for the Chem:Soc committee.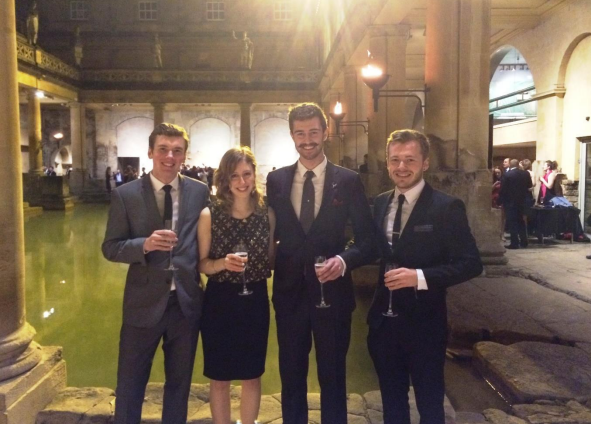 I didn't have much time to mull this over – elections were in the weeks following the ball. This was probably a good thing because elections are stressful, and your irrational mind tells you that nobody will vote for you. I ran for the position of treasurer, faced with opposition, and decided to go full steam ahead with the campaign. My friend chose to run for chairman, and we both went in blind with nothing to go on but determination to help our fellow students find their feet as we had done in the year gone by. You can see where this is going; we both won our positions!
So Project Chemball MMXVI was born. The first thing we did was book the Pump Rooms eight months prior to the ball. Whilst we were looking forward to running all our socials, and providing points-of-contact for our members should they need us, we did everything within our power to host a party unlike one we've ever thrown before. We thought we were being super clever branding the ball with a Roman numeral trademark, linking the anno Domini '2016' with the BC world of the Roman Baths. It was a project invested in by a curious cohort and executed by a strong committee (seriously committee guys – you're the best).
My role as treasurer was hard. I was the right-hand (wo)man to the chair, and basically told him what we could and couldn't afford to do. Getting my head around SU commission was tough; having to negotiate with restaurants and bus companies was out of my comfort zone. We even haggled with the Chemball caterers, something my meek conscience had never dreamt of doing. Everything we did, we did with Chemball MMXVI in mind. It was not cheap, we knew this from the start, but making profits on our welcome social, Bristol social, and Christmas dinner allowed us to subsidise the ticket costs and widen the inclusivity of our highly-anticipated night.
300 tickets sold to placement students, chemistry students, natural scientists, lecturers. The day of the ball had arrived! I woke up and immediately started to document the progression of the day; the morning in to afternoon, the afternoon in to evening. Lectures (really sorry) seemed to go on forever – we were just too excited (and at this point, ridiculously nervous). I rushed home to allow a shameful amount of time to get ready and then bundled into a taxi with the rest of the committee to go and get the party started.
It was a damp night which wasn't particularly convenient for running around town carting speakers from cars to the venue, but alas, we managed. Having chatted to our event managers and double checked the quantity of champagne available, we were good to go. A queue started to form outside under the sleety skies, and suddenly everything felt under control and almost serene. From there on in it was relatively smooth-sailing. Conversations were flowing (as well as the wine) around the steely green water, laughter was bouncing from ancient wall to ancient wall, and my heart-rate was beginning to settle down. A black-tie event; I was overwhelmed with how smart everybody looked and the efforts that were made. Not that I didn't think my peers were capable of scrubbing up well, I just struggled to believe that they were doing so because of an event that I'd helped to run.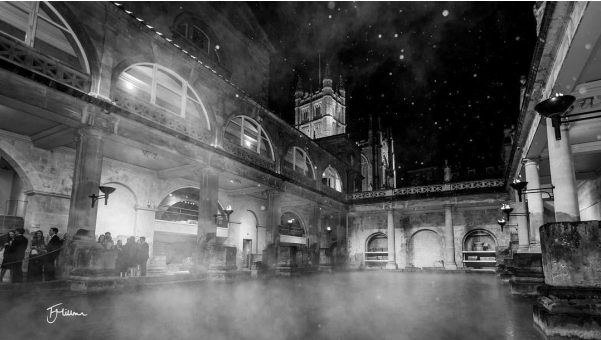 At 8pm sharp, we were called to dinner. A delightful array of soulful food in the most elegant of rooms. Towards the end of the meal, the chairman and I were allowed to climb up the balcony to take some photos of the dining room. This didn't go unnoticed; suddenly the room started to applause in the kindest of gestures and I was stunned with the alien notion of feeling completely in my element (excuse the pun). My experience with Chem:Soc, as horrifically cheesy as it sounds, helped me to find my place in chemistry. It was a confidence-booster, a challenge, and a bonding experience with my peers. Yes, it was irksome at times, it was tiring, and it involved playing 'mum' on nights out. Was it worth it? Absolutely.