Scared. Anxious. Uncomfortable. They were all words that sprung to mind when I heard about the Gold Scholarship Programme networking event on the 1st November. I couldn't have been more wrong. The training provided before made the thought of networking seem less overwhelming and more achievable to carry out.
Every mentor was welcoming and helpful to all of us scholars, making sure we felt at ease in the situation so foreign to us first year students. The idea of speaking to people, who I didn't know, about their journey and my future was scary, but within 10 minutes my worries were washed away. The evening was informative, yet still relaxed and full of friendly people to turn to for advice on everything from university life to how they got into their field of work.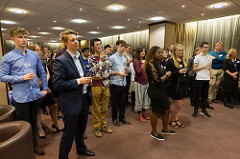 I never imagined that I would be going to canape events in my first year of university. I expected to be eating super noodles on a student budget! The Gold Scholarship Programme brings so many opportunities and the networking event is definitely one of those. I spoke to people from different career backgrounds, making me aware of all the opportunities out there after graduation. It's a scary thought to be looking into careers just two months into starting university, but it allowed me to challenge my idea of what I want to do, and explore other opportunities available to me, including careers I didn't know even existed. Coming to university, I didn't know the exact career path I wanted to follow, but now, I've discovered so many opportunities available to me as a sociology student.
Following the event, I learnt that it doesn't have to be the scary or dreaded event that it sounds. It really is as simple as talking to someone and getting to know them. It can also be as important as making connections for future careers, but don't let that put you off! Networking is something that I expect to do again in the future, and I'm so thankful to have experienced this already with the support and guidance of the scholarship team.