Hoping to be a part of something spectacular at University? Secretly dream of being a performer? Look no further than the University of Bath's very own A capella group: 'Aquapella'.
Amongst all the interesting lectures, coursework, nights out, and  more – a hint of music may be just what you are looking for. Aquapella is less of a group and more of a family, which opens doors to the most amazing experiences.
Just this past year the group excelled to new heights by competing in the International Championships of Collegiate A capella (ICCA's). Having placed 3rd at quarter-finals and 1st at the UK semi-finals, with one of their members being awarded 'Best soloist' for both of these rounds, they now hold the title of "UK National Champions of A capella 2017". As if this wasn't enough, the now UK National champs were invited to compete on Broadway in the Big Apple where they went on to win the International Award for Best Choreography. What a year it has been! How do I know? I myself was a member of the group during this unforgettable year.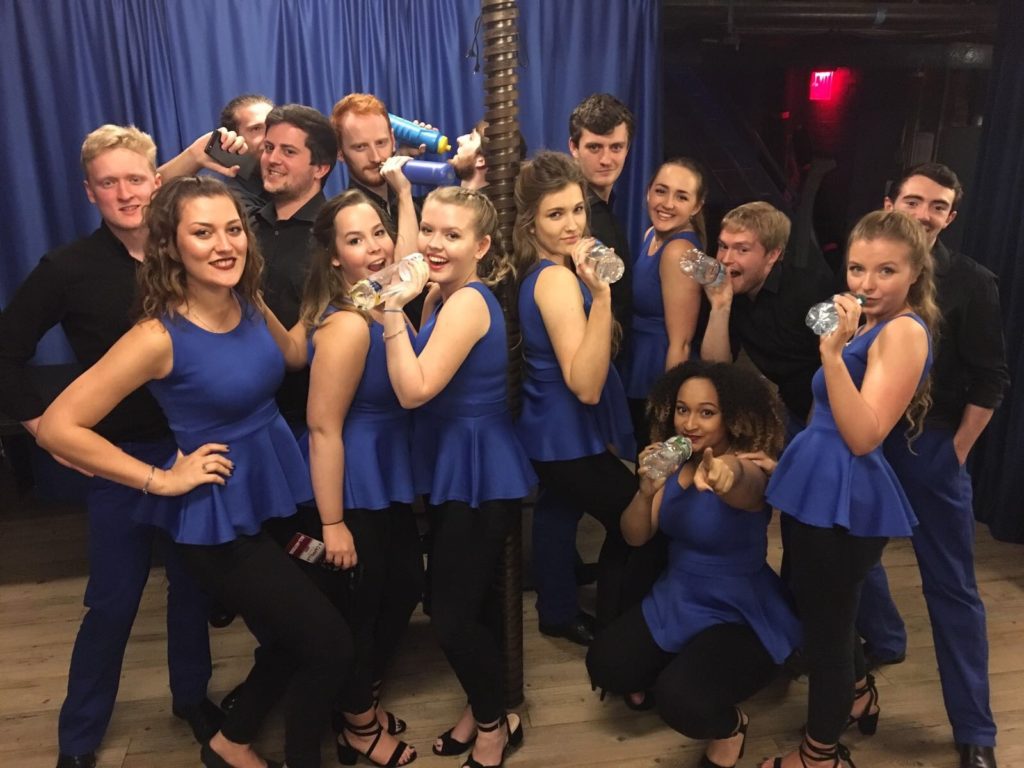 The inside scoop: the life of an Aquapella member…
Becoming a member of Aquapella is nothing short of an experience in itself. You start with a taster session where you can sing along with the group and get a feel for what Aquapella is like. Then there are the auditions and finally call-backs where the group will teach you some of their songs and see how you 'blend'. Once you're in, the fun starts!
Aquapella have the most exciting events on their calendar; from flash mobbing a TED talk, singing at School of Management Events, to flash mobbing a wedding (requested by the groom of course). You can most definitely catch Aquapella busking in the beautiful city of Bath on Saturdays and Sundays and if that's not enough, you can even hire them yourself. But just before you think it's all work no play, I can assure you that Aquapella's social calendar is just as full with socials between the various A capella groups sprinkled across the UK.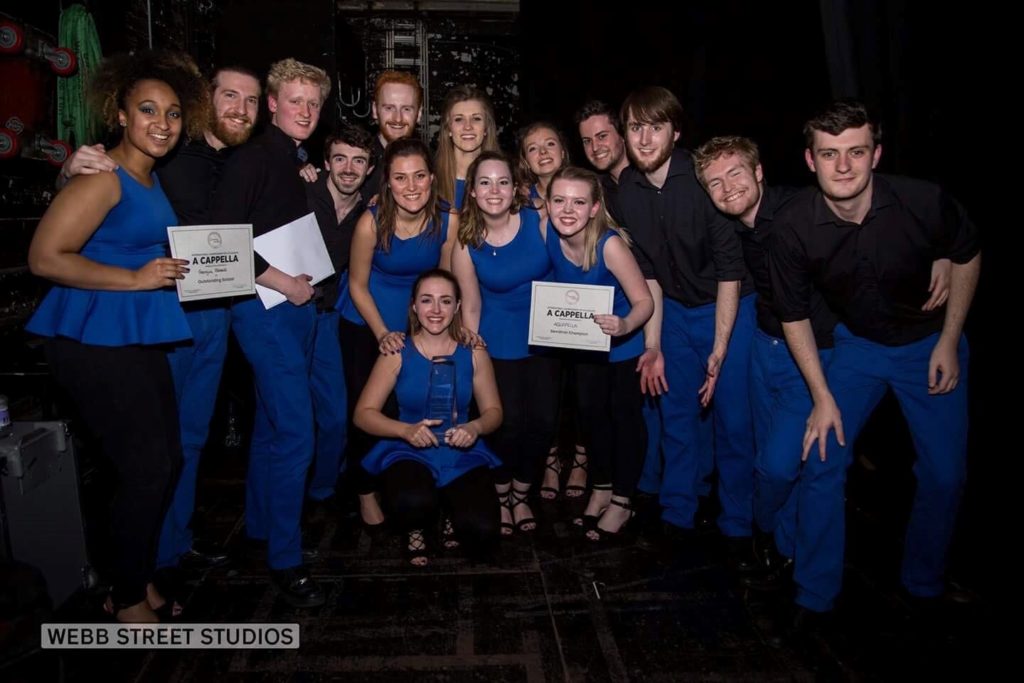 One of our first socials of the year was a karaoke night with the 'Bristol Suspension' A capella group, held at the Bristol University Students' Union. A few weeks later we travelled to Cardiff for a blast from the past with a decade themed social where each group dressed up to the nines of different times. In addition, to these socials, Aquapella holds their very own annual Christmas meal and Aquapella reunion night in December. These two nights are an all-time favourite where firstly, you get to indulge in the Christmas festivities such as turkey, mulled wine and Secret Santa, and secondly, new Aquapella members get to meet old members as well as the founder of Aquapella himself, whilst of course singing and dancing the night away.
Work, work, work, work
International Championships of Collegiate A capella (ICCA's)
Getting to the top requires hard work but there was laughter all the way. Preparation for the ICCA's involved vocal training, choreography, and great marketing efforts to fund the group's travel. From Exeter for the quarter-finals, London for the semi-finals, and New York for the international finals I can safely say that the group bonded incredibly through this journey both on and off of the stage.
Edinburgh Fringe
Each year Aquapella travels to Edinburgh Fringe Festival where they rent out a venue and put on an hour-long show which takes your through a journey filled with laughter, inspiration, as well as 'sass' and leaves you in joyful tears. The Aquapella Fringe show is nothing short of really hard work – the group trains for two weeks to bring the sheet music to life and all members hand out flyers each day at the festival in order to bring the public to the show. Fringe is another incredible experience filled with yet more laughter, cooking rotas, board games, and special end of year celebrations.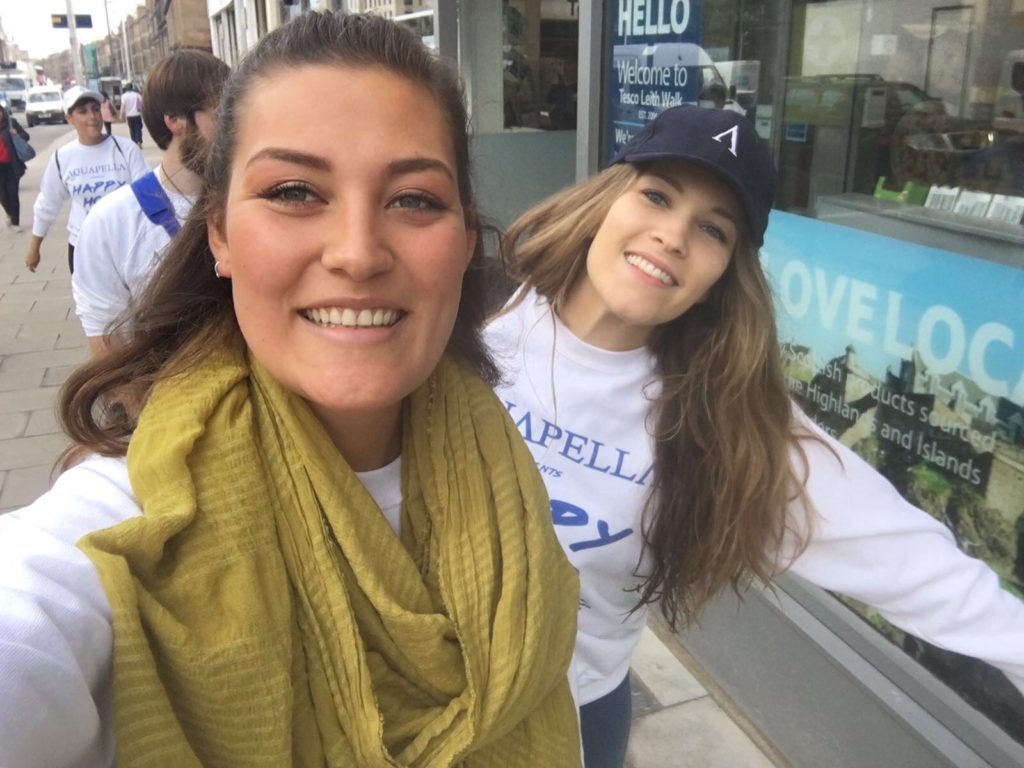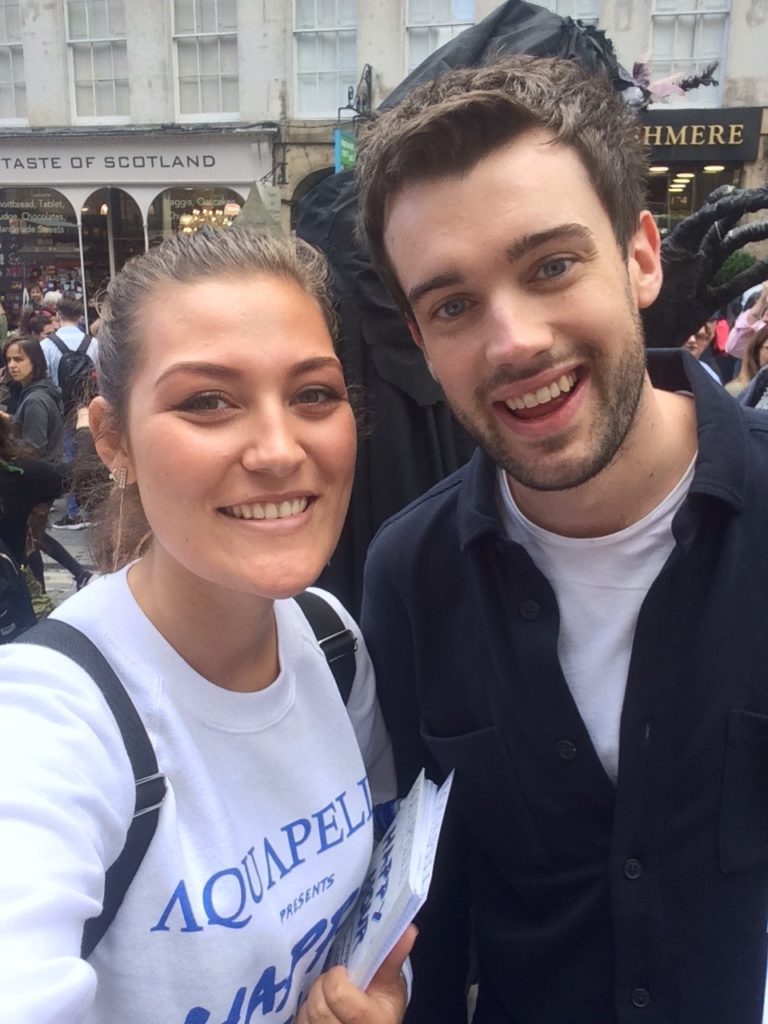 Aquapella, where to now???
Having recorded and released a music video for their single "Somebody Else" just this past year, Aquapella stays on the ball by recently having been in the studio recording a fantastic cover of "Purple Rain" (coming out soon). The group has also entered the Voice Festival UK this year! Keep an eye out for more details about performances, song releases, competitions, ball games, and more on their Facebook Page and their brand-new website. And if you do end up coming to Bath and feel that you'd like to be a part of Aquapella's unforgettable adventures, then you should definitely put yourself forward for the Freshers' Week auditions. I am really glad that I did, and have learnt so much about music and myself by being a part of this very special musical family.
Some more photos from our time in New York City at the International Champs of Collegiate A capella (ICCA's)....