I can't believe it's almost December! This year is absolutely flying by, so I thought I'd chat a bit about some of the volunteering I've done so far.
If you're new to reading these blogs, one of the requirements of the Gold Scholarship Programme is completing 50 hours of volunteering, fundraising or outreach per year. Although it sounds like a lot, it's actually one of my favourite aspects of the programme. I've found it really pushes me to take part in activities that I wouldn't usually do and say "Yes!" to every opportunity that comes my way.
Before I came back to Bath in September, I volunteered in my home town at a summer fete to raise money for our local hospice. I spent the majority of the day at the "Smash a Plate" stall... who knew how much people love throwing balls at plates?! It was also pretty cool because Martin Clunes, who plays Doc Martin on ITV, is a big supporter of the charity so he was at the fete too. Turns out he likes smashing plates too! Overall the day raised £25,000 for the hospice and it felt amazing to have been a part of it.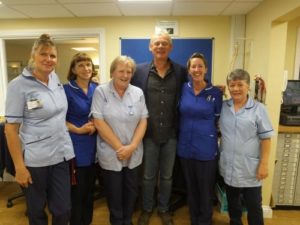 Another thing I've done this year is join the committee of the Baking Appreciation Society. I'm the events officer, responsible for organising things like bake sales and the biweekly 'bring your own bake' meetings. Just last week, I set up a bake sale with Bath Marrow and we raised £66 for the charity Anthony Nolan. Interesting fact - I'm actually really bad at baking! I usually just "help" my flatmate, who is the treasurer of the society. It's been really cool to learn a bit more about how societies are run in the Student's Union, I didn't realise how much goes on behind the scenes.
Here's a selection of our bakes so far this semester...
I also signed up to be a pharmacy Lead Peer Mentor. All new students at the University of Bath are assigned a Peer Mentor; a second year student studying the same course. Peer Mentors are basically there to help their mentees to settle in, answer any questions about the course or university life, and just generally be a friendly and approachable face. My job is to coordinate the peer mentors and help them to support the first years. I organised a welcome event during Fresher's Week and we're also planning to run a revision session/exam Q&A just before Christmas.
Bath RAG, a student group that organises fundraisers for different charities, hosts a simulation zombie apocalypse event around Halloween every year, and this year I was part of the group that organised it. This was very different to the sort of volunteering that I normally do, especially as I have absolutely zero experience with organising an event! It was really enjoyable though, I got to see a bit more about how the Student's Union works and picked up a load of really helpful skills along the way.
I think volunteering is a really great aspect of the Gold Scholarship Programme. It's helpful to have a motive to volunteer; I think a lot of people put it off or think they don't have the time to spare. This programme has shown me just how easy it is to give a small amount of your time and make a really big difference.