One thing that I think is great about our university is the number of different student groups. Sports, societies and charities; there's literally something for everyone. This year, as part of my 50 hours of volunteering for the Gold Scholarship programme, I decided to get involved with Bath Marrow.
Marrow is the student body of Anthony Nolan. This charity matches incredible individuals willing to donate their stem cells to people with blood cancer, who desperately need lifesaving transplants.
Here are some statistics for you...
Over 2,000 people in the UK are in need of a bone marrow or stem cell transplant every year.
75% of UK patients won't find a matching donor in their families. So they turn to organisations like Anthony Nolan to find them an unrelated donor.
Currently, only 69% of patients can find the best possible match from a stranger, and this drops dramatically to 20% if you're a patient from a black, Asian or ethnic minority background.
Only 2% of people in the UK are registered as stem cell donors.
Anthony Nolan recruits people aged 16-30 as they are likely to make the best donors and it costs £40 to sign someone up to the register. This makes universities a great place to scout out new donors!
I started off by attending a volunteer training session run by the Bath Marrow committee. I learnt some general information about the work that Anthony Nolan does, and then went on to be trained in how to sign up new donors.
A few weeks ago I helped out at the first donor recruitment event of the year, "Marroween". I spent the afternoon approaching students to tell them a bit about Anthony Nolan and trying to convince them to join the stem cell register to potentially save the life of someone with blood cancer. This was a really scary thing to do at first, but it felt amazing once I got into it. Over the afternoon I signed up 5 people and it's pretty satisfying to know that those 5 people could potentially go on to save 5 lives.
This year I am also the events officer for the Baking Appreciation Society, so I organised a collaboration with Bath Marrow. We held a bake sale at the university which raised £66 for Anthony Nolan! I'm a bit of a catastrophe when it comes to baking, but thankfully I had my wonderful flatmates and members of the Baking Society to help me out!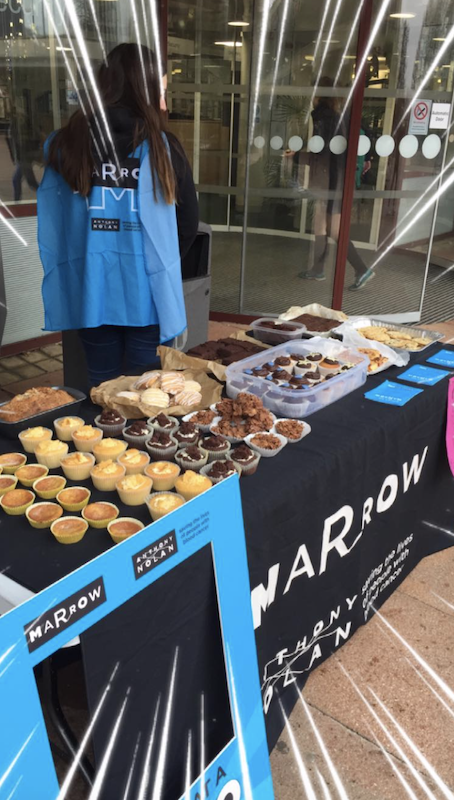 I have a personal connection to Anthony Nolan so it's felt really great to do some volunteering for them. Doing any kind of volunteering is always empowering, but doing something that I feel so passionate about has been amazing. I've seen the impact that this charity can have on a person's life and it feels really special to be a small part in making that happen.
If you're aged between 16 and 30, find out how you can be a lifesaver here.