So you've chosen the course you want to study for the next 3/4/5 years...WELL DONE! For me, that was one of the most difficult challenges when applying for university. But now schools and colleges are on your back asking whether you have written your Personal Statement and are throwing tips and ideas at you from every corner. Overwhelming right?
Writing a Personal Statement for a subject that you haven't studied before can seem really scary. However, it is really just like writing a regular personal statement. Almost everyone applying for the course will be in the same position and the Admissions Office will be aware of this. Take your time and hopefully, the following tips will make the task of writing a personal statement a little less daunting, especially if you have never studied the subject you are applying for.
STEP 1:
Making a list of why you want to study the subject you are applying for is a really useful first place to start. And it is often a lot more difficult than it first appears. Generally, people have very different reasons for choosing to study a particular course and a unique Personal Statement can really help you to stand out from all of the other applicants. Reasons will differ from person to person but may include specific career prospects, a project that involved elements related to the course or even reading an article or book that is linked to the course and inspired you.
If you are struggling to pinpoint a reason, it may be useful to think about why you are choosing this specific course over the 100's of others available to you. For example, I chose to study Chemical Engineering after reading several articles by 'Engineers without Borders' and combining this with my passion for the sciences.
Place your cursor in this picture to check out the Chemical Engineering laboratory facilities at Bath
STEP 2:
Now you have a clearer list of motives for studying the course, you can begin to draw on any experience you have gained that relates to the particular course. Don't panic. Universities recognise that it's extremely difficult for some students to gain specific work experience or be involved in projects related directly to their chosen course, especially if you are opting to study a brand new subject.
Think about any experience you have had and how you could make it relevant to the course you are applying for. And if you have had any directly related experience - definitely add that in. The team reading your Personal Statement want to be able to see that you have a major interest in the subject. If you are studying an EPQ or Welsh Bacc qualification and have written about a topic relating to your course definitely discuss this.
If you have no experience relating to the course whatsoever and are finding it difficult to relate any experience you have had, then it might be a good idea to talk about a specific article or book.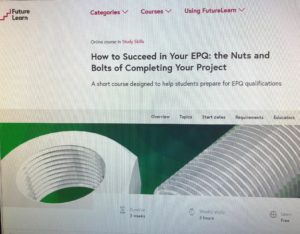 STEP 3:
You now have a list of reasons for studying the course and also a list of experience/hobbies/extracurricular activities you have that you can relate to the course. It's time to start writing!
This link is really useful and includes tips and what to avoid when writing your personal statement:
A few top tips:
The general rule for Personal Statements is that they should be 80-85% academic and only about 15-20% should talk about hobbies etc
Write 'reflectively', keeping the course at the forefront of your mind. The majority of your statement should directly relate to your chosen course
Make sure your writing is concise and succinct, a Personal Statement is actually quite short (approx. 500 words)!
Have a clear structure, and make a plan before writing the statement 
Avoid chatty language. Technical/subject-specific language will make your Personal Statement sound better 
Avoid using words like 'passionate'...these are generic and appear on every other statement. Use a thesaurus!
Read Personal Statement examples on the internet to get an idea of the type of statement you should be aiming for. Be careful not to copy it though! (This will also help to make your statement different as you can begin to spot generic statement patterns!)
Ultimately, your Personal Statement needs to be a reflection of you and needs to showcase your capabilities and interests. The key to a good Personal Statement is to make it personal!
Good Luck!