Studying a masters degree is a new page of your life. Now, you get your offer, have you ever thought of how your life is going be in Bath? Besides the excellent teachers and staffs, new friends will definitely play an important role in your new life here. Today, I'm going to share how I made new friends here in Bath, and hope my experience can help you.
How to build connections before arriving?
Search for Facebook groups that are related to Bath
I still remember that when I received the offer, I searched Taiwanese Society Group on Facebook to ask more questions about Bath, and I found so many Taiwanese who were coming to Bath as well. Later, after paying my deposit, I received an email telling me there is a group for School of Management students.
In the group, there are many students from both undergraduates and postgraduates. But it doesn't matter, just don't be shy and have a post in the group to find your future classmates~ For example, "Anyone study MSc Management as well?". After finding them, you can create a group chat via Messenger or WhatsApp, depending on your preference.
Then, it becomes the first step to making new friends!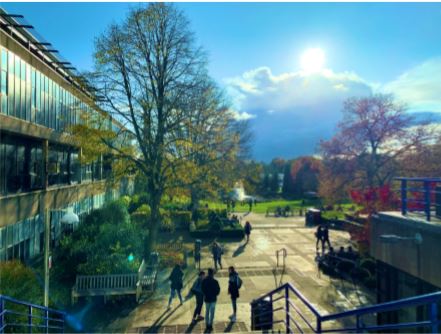 What's next after coming to Bath?
Attend University of Bath's events: Welcome Week & Freshers' Week
The University of Bath provides so many events in the first week. In the daytime, your department will have a "Welcome Week", arranging many activities to participate and interact with your classmates. This will be a good chance to build a positive relationship with them. During the evening, or night, there will be plenty of events held by the Student Union (SU), which will be called "Freshers' Week". It is not only events for undergraduates, but also for postgraduates (PG). You can choose which event to enjoy, and the most important, remember to invite your classmates to join you! For the PG only events, you can have a complete night to chat maturely with everyone there. But another question comes out, what can you talk about?
Start your conversation with these topics!
One question that people ask the most is that "What can I talk with others?" Basically, we will ask others' name and their origin. At this point, the first topic comes! The culture. If you have heard of the country, you can talk about your experience; if you haven't heard of it, you must be curious of their country, right? After the culture, the next can be the new life in Bath. Take myself for example, during our first week, it was so hard to wait for the bus, so when I talk about the late bus, everyone had the same feeling with me. And your new life is always going on, so with these two topics, you have already had a lot to chat with your new friends.
Last Reminder
No matter how you develop your friendship with your new classmates, always be polite and don't be shy! The University of Bath really chooses amazing people to get together here, I trust everyone can always find their way to create a unique life with their wonderful new friends.