Exams were finished and summer was nearly over too, but leading up to results day was nerve-racking, to say the least. I'd been checking UCAS weeks before results day 'just in case' it updated early, but finally getting the confirmation on results day was when university began for me, and the following weeks was an experience like no other. Here are some top tips that helped me make the most out of my first few weeks at Bath!
Don't take Everything…
Of course, the first and most important pre-move-in task was a trip to IKEA. Fake plants, flatpack boxes (yet to be used) and every pointless kitchen utensil imaginable… essentially I bought everything BUT the essentials. So top tip, check out this list of things to bring to uni accommodation and don't overpack like I did. You might want to take everything but think carefully about what you will actually need.
Also make sure to bring anything you need specifically for your course such as calculators or pencils. There are things I would definitely recommend, such as printed out photos of family, friends and holidays etc. or even posters for example. Bringing items like these to decorate your room with can be comforting if you do miss home, so it's a great idea to bring these!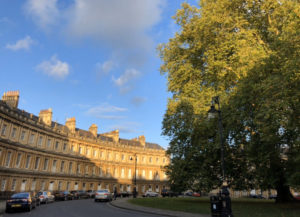 Make the most of freshers!
Freshers' Week will forever be one of my highlights of university, but it's important to know how to make the most of it!
If you're living in halls, the first few days is a great opportunity to make lasting friendships with your housemates. Once I sorted out all my things, I went and sat in the kitchen, I found this was the best place to meet everyone. If you stay in your room, then I'd recommend you keep your door open as then people can come and say hi!
Freshers' Week is full of activities both during the day and night and therefore is another way to make new friends! During the day there were loads of activities including inflatables and plenty of events with free pizza. For me though the highlight of freshers was the arena nights, we had acts from Scouting for Girls to Becky Hill and Scott Mills, these were great fun!
If you're not a drinker don't worry! People who didn't drink still had a great time, or if clubbing really isn't your thing or you just want a night off, then there were loads of other evening activities such as film nights! There is something for everyone, so make the most of it!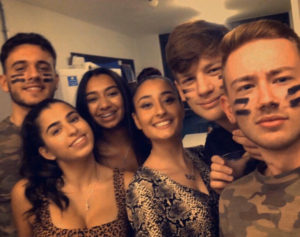 The first few weeks are an intense time of social interaction but being surrounded by people for a lot of the week helped me to integrate and definitely made moving to university much easier. My advice would definitely be to not spend too much time in your room during freshers. Make sure you get to know your flatmates, but also ensure you get time to yourself as being around people for a large part of a week can also be overwhelming.
Be sure to phone your friends and family back home too, they will want to know how everything is going!
Getting back to work…
The first few weeks, of course, involve working again, which you may not have done since your final exams so at first, it will take time to get back into doing work. My advice would be to try and keep on top of your work from the very start. Having just done semester 1 exams, I could have made my life a lot easier had I done all the required reading and asked at the time about things I am confused about.
I'd really encourage you to keep on top of your work, or if you don't understand something, or are struggling with work, then tell someone! Whether it be your lecturers, personal tutors or even your classmates, starting the semester positively and with the help you need, will make the end of the semester a lot easier!
The first few weeks at university are like no other so make the most of it, and HAVE FUN!