Hi, my name is Nadia and I am studying a Masters in Applied Clinical Psychology. I hope you enjoy reading my first blog post!
Course
I chose Bath for PG study for a number of reasons, including the content for my course. Whilst in my third year studying for a degree in Psychology, I knew that I still wanted to further my knowledge, particularly in the field of Clinical Psychology. After taking a look at the website detailing what would be involved in the course, I felt it would really provide me with a deeper understanding of a topic that I was passionate about, as well as the research being conducted and the facilities available at the university being of interest to me. This, as well as Bath being highly ranked for Psychology, encouraged me to apply for this course.
Research
As briefly mentioned, another reason I was interested in Bath, specifically, was because of the research being conducted within the Psychology department. Bath is known for its research excellence in general, as well as in Psychology, so I found this factor important as I wanted to study at a university where exciting studies were taking place. This research is also internationally-leading, which emphasised to me how renowned it is.
Facilities
10 West, where the Psychology department is based, is not just aesthetically pleasing, it has a wide range of facilities available for students too. Virtual reality, psychobiology and eye-tracking spaces are a few examples of directions where research could go in the building itself. This means there is an expansive range of opportunities to both get involved in conducting research and volunteering as a participant to take part in it - I find doing either of these rewarding in their own way.
Campus
When I visited the university campus, I found the services the university provides were conveniently located. This included the Students' Union (an added bonus was having a Starbucks situated inside), ATM machines, Fresh (a grocery store) and other food outlets, of which there are a wide range. I thought the availability of these and the rest of the layout of campus was really useful and beneficial. Alongside this, the lake and general greenery added an ambient nature to the whole area, which, especially during term-time, is busy with students. All of these aspects helped increase my interest in studying at Bath, as they can be quite important to consider, even as a postgraduate student.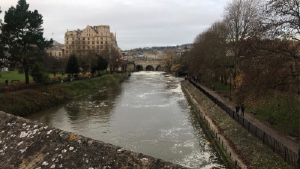 City
I first visited Bath when I was a lot younger and thought it was a beautiful city. Little did I know that years later, I would be studying in this very place! There are so many pretty places to see, from the Roman Baths (of course), to Pulteney Bridge, to the galleries and museums and last but not least, the many picturesque parks scattered around the city. Being surrounded by a pretty environment is always a plus when studying in a new city and Bath is no exception.