Moving into uni is an exciting time… that also comes with its challenges. Hopefully, this guide will help make the process slightly less stressful!
Consider your accommodation
This is not really spoken about but maybe one of the most important things to think about!
Are you living on the 4th floor without a lift to get to it? Is your room tiny with little storage space?
Asking yourself these questions will help you decide how to pack (suitcases vs boxes) and save you from packing excess if your accommodation doesn't have sufficient space.
Pack lighter than you think
As a general rule, you want to pack lighter than you think as it's natural to overpack when you're about to move out of home – for the first time for most people.
I learnt the hard way and ended up with at least 2 boxes of things that I didn't touch throughout my first AND second year…
So, pack, repack and repack again.
Make lists for everything
Not to be overly perfectionist, but you want to try not to miss anything out since you might not go home for a while. I like to categorise all the things I might need to make it easier to figure out (see below).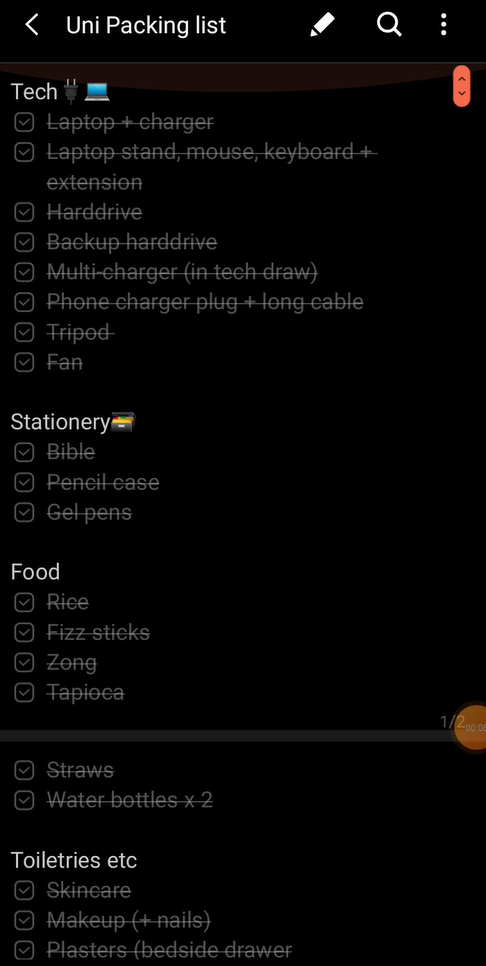 Start packing non-essentials early
Non-essential essentials (like stationery and kitchen items) are some of those things that you're likely to forget so pack them early! Again, make lists and you'll be fine. 😉
Watch this video to see how I packed for my final year and get a tour of my room too!