VIP Student Wellbeing (2)
Hello, and welcome back to the second blog. I will be documenting what we are doing as part of the student wellbeing Vertically Integrated Project (VIP). If you are new here, my name is Elly, and I am an MSc Forensic Psychology Student.
Our Poster
Over the course of the last few weeks, we have created a poster documenting what we are doing and our plans for next semester. We will present our poster to lecturers, other VIP groups and colleagues on the 7th of December.  The presentation allows other groups to ask questions and provide recommendations for our project. Check out the poster below.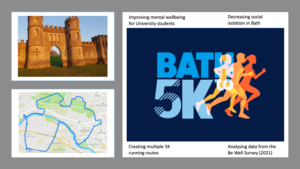 Our Student Wellbeing VIP Poster
To inspire people to take part in the Bath to 5K, one of our members walked a 5K route and took some photos along the way. We are hoping the visualisation of our routes will inspire people to take part and make the process less daunting.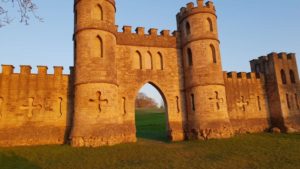 Photos taken from Tariq on the route of the skyline.
You can also find an example of on our 5K routes by following this link.
Other plans
We are also in conversation with people within the University, who are going to help us promote our campaign through various social media platforms (Instagram and Facebook). We decided Instagram was a very current method for advertising, and that Facebook would be good to set up group events.
Mixture of routes
We have decided for those who may be using the Bath to 5k as a more competitive or intermediate challenge that we will be creating routes longer than a 5K so all abilities can get involved.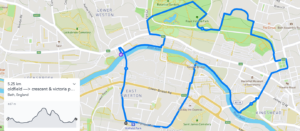 An example of one of our 5K routes
I also thought I would provide some background as to why running can be good for student wellbeing. Running has been shown reduce depression and anxiety and improve self-esteem and social withdrawal. This occurs due to an increase in blood circulation and an influence on the hypothalamic-pituitary adrenal axis which improves the reactivity to stress.
Follow this link for more information.
I hope you have enjoyed the update, and I look forward to checking back in after the Christmas break!
Elly