Throughout my university application process, I found that choosing which university to go to came down to more than just grades and league tables - there is so much more that I had to consider. As a Muslim student, one of the biggest factors I was looking into was how I would fit in, and an important part of that was where I could get halal food. Although Bath is quite a small city, there are surprisingly a variety of cafes and restaurants that serve halal food - and I still discover more every day!
On campus, Fresh supermarket sells halal diced chicken, which was great during first year, when I was living in campus accommodation. Also, most outlets on campus, such as Lime Tree and Fountain Canteen, sell halal chicken meals. I just ask staff before ordering to double-check.
In the city, there are a handful of halal places, including; Comptoir Libanais, Bodrum BBQ, Cappadocia, Thai by the Weir, Bandook, Peri Peri Sizzler, Taghine Zhor, Al Falafel, Maureen's Mediterranean Street Food, Friends Takeaway, Diana's Cafe, and Lulu Caffé. There are also a few places near Oldfield Park, which is where most students tend to live in their second and final years. There's The Mint Room, MeatBusters, and Adels Pizza. It is safe to say that there are many options for me to choose from, and a variety of cuisines to try!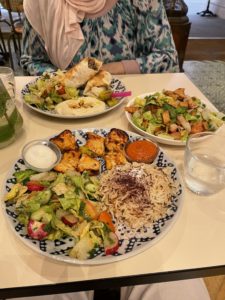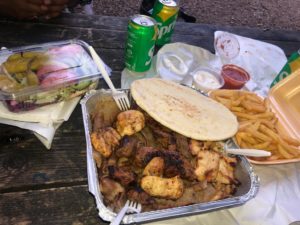 A good number of restaurants also tend to have halal chicken meals. My favourite place is LJ Hugs, which is a food stand near McDonald's that is usually set up in the afternoons. Their chicken meal with sweet potato fries never disappoints! There's also Thaikhun, which serves great Thai food (their Chicken Katsu curry is my favourite). Other restaurants with halal chicken are Pizza Express, Dominos, Absurd Bird, Gourmet Burger Kitchen, Giggling Squid (which also has halal lamb), and Las Iguanas (which also has halal goat). Keep in mind that it is always a good idea to double-check with the restaurants before ordering.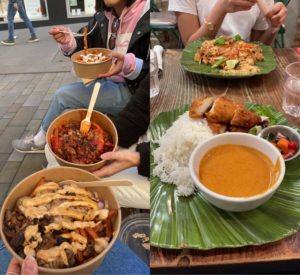 Last year, a big International supermarket opened in the heart of the city, called Perfecto. Here I find everything I need from all corners of the world, ranging from Lebanese bread to Baklava. They even have a halal butcher where I get chicken, minced beef, steak, and more. They also recently opened a small café inside, offering an assortment of cake along with tea and coffee. In fact, Perfecto has become a staple stop when I food shop.
It's safe to say that I have lots of halal options to choose from in Bath, no matter what cuisine I crave, which makes life a whole lot easier!
Watch my tour of the places.