Hello everyone! I am Vienne from Hong Kong, a first-year doctoral student in Education. This is my first blog about my experience in joining a VIP.

I still remember when I first started my degree at Bath, I was actively looking for something to DO. This is because I want to make the most out of this challenging yet rewarding journey. So, I eyeballed every single email and one day, news from the VIP team just struck me. I thought "Well, apply for a VIP? Doesn't it mean 'a very important person'? Hmmmm…" As I read along, I was amazed by this very initiative. Such a university-led initiative involves cross-disciplinary and multi-level groups of students to work with a member of academic staff as a team on long-term real-world projects. And Bath is the first University in England to develop its VIPs. Wowza!

There was a list of exciting projects for selection, and I had my eyes on two projects actually. They were (1) Intergenerational engagement in research and teaching: Challenging stereotypes and promoting positive ageing, and (2) Student wellbeing. Guess my choice! At last, I put the intergenerational engagement (IE) project as my first choice because the scope of research will definitely go beyond my field (Translation, Cross-cultural communication, Sociolinguistics and Education as my combined learning history) and enable me to work with Dr. Fiona Gillison and students whose academic backgrounds are very different from mine. Of course, this is not the only reason for me to join the IE project. I genuinely like its ambitious notion and sheer determination to bring a positive mindset shift on people (both older and younger generations) and society. What I felt about the whole VIP is that you can take your time to develop skills and experience out of your depth, out of your field, and out of your comfort zone.
The application process went swimmingly but the only concern I had was a time zone issue. As VIP meetings are usually held on Tuesday late afternoons/evenings, it's very unlikely for me as a student from Hong Kong to attend (or I will be a night owl). And so, I raised my concern on the application form. The VIP team reassured me that my academic lead and the team will come up with a flexible plan to accommodate all students who are interested in the programme.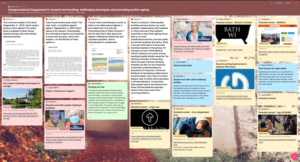 Although I missed the first two induction sessions, I was able to catch up the meetings via recorded videos, the group discussion on Padlet and personal communication with Fiona. Right before and soon after the induction sessions, Fiona wrote to us (three team members who had a time zone issue) and informed us of the next steps. Later, I was invited by Nicole to share my ideas on Padlet and was added to a Whatsapp group so that we can keep in touch regularly.
Here are the screenshots of the first two group meetings. Look at our happy faces! The meetings usually lasted for less than 45 minutes and got straight to the point. We learnt from each other about the updates on the project. At the early stage, the IE team was still finding its niche. Our plan was to explore the current issues faced by older adults from various sources, such as reviewing the literature, learning from the listening project in which Beth and Ellie involved, and lining up a meeting with Dr. Lukas Wolf (which was nicely done by Aimee). It's a big group consisted of 15 members. Due to the time zone issue and the fact that it is rather impossible to have everyone each time, we have decided to split the group into two: an event team and a research team. More updates will be provided in the next post. Whether we are on the event or the research team, I believe we all wish to make a contribution through this IE project, no matter how big or small.