In Year 12 the word UCAS used to put me on edge; "Am I meant to have my future planned out already?" "How does the application process work?" So many worries and questions ran through my mind even though I had plenty of time to sort everything and get the help I needed! Don't panic. There are endless amounts of resources out there to help you through every step of the process.

Results day...

Fast forward to the 10th of August, I was up at 8am, hidden away in my bedroom, refreshing UCAS Track, begging the Universe to show me a 'Congratulations on your place at the University of Bath' sign, yet dreading it at the same time. Then came the guilt, the doubt. "Do I really deserve this place in Bath?" "Will I fit in?" Considering the same questions now, 3 weeks into the semester, I can assure myself that I worked hard for where I am today, so I definitely deserve to be at the University of Bath!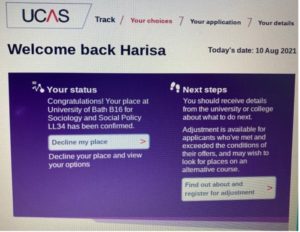 Change can be scary!

From Coventry to Bath, from a house full of siblings to my own living space, from cooked meals to instant noodles, from my comfort friends of many years to making new friends, the entirety of the move was challenging!

In between the countdown came the fun part, shopping! It was quite stressful for a perfectionist like me but mainly exciting. All of a sudden I had to learn things like what the tog of a duvet meant. I settled on tog 10.5 and it was definitely one of my best purchases; you can't beat a comfortable sleep!

Slowly but surely my cluster of university purchases took over the dining room, with boxes and bags stacked anywhere I could find space. The constant questioning of whether I had forgotten anything was so pointless; it seemed to have slipped my mind that I would still have access to shops to buy anything I had forgotten once I moved out! There was a lot going on during the weeks leading up to my move which got slightly overwhelming at times but that's completely normal! Just remember to allow yourself the time to feel what you truly feel rather than pretending everything is perfect, suddenly it won't seem as daunting. Then came the game of Tetris; trying to get everything into the car was a squeeze but I made it.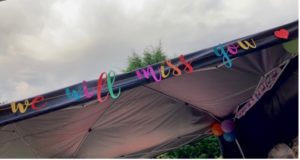 Move-in day

Saturday 25th of September, I was up bright and early at 7am, still rushing around making sure I had everything regardless of the previous month I had spent packing! Saying goodbye was not the easiest but it definitely helps if you remind yourself that moving out is not the end of everything/everyone you've known, but simply a new path for you to grow along.
Walking into my new room, shyly greeting my new flatmates, it all felt surreal, and it didn't really hit me that I was in my new 'home' for at least a week after moving in. Jumping straight into Freshers' Week was a great way of taking my mind off any uncertainties for a while as it was really refreshing meeting people in the same position as me. It proved that we're never really alone, even if we feel it!