As we went into lockdown we were forced to adapt to new changes that affected our daily routines. Studying as a first year student during the pandemic meant I hadn't experienced the traditional uni experience before, so I didn't know any different. While any normal year would have been filled with in person lectures, going out to restaurants and bars, going to club nights and being able to live a face to face experience, my first year was slightly different. In this blog I am going to talk you  through a typical day in my life…
After getting ready and having some breakfast I would usually have some online lectures, which I would watch from the desk in my bedroom. This was actually very convenient as it meant I didn't have to leave the comfort of my own room. The lecturers also did everything they could to make the lectures as interactive as possible, with break out rooms, quizzes and using the chat functions. While we made the best out of this situation it obviously wasn't ideal and I can certainly say we are looking forward to having in person lectures this year!
After a morning filled with lectures and seminars, I would go to the kitchen to make myself some lunch and catch up with the rest of my flat mates to see how their mornings have been. Having this communal space was really nice as it meant we could socialize with each other.
After lunch I would either go back to having some lectures or be free for the rest of the day. For me, it was really important to get some fresh air during the day to break it up in between lectures. I would either walk to Sham Castle, which was a 5-10 minute walk from campus or I would walk into town to get some shopping done or get a coffee from one of Bath's many independent coffee shops.
I am also a part of the university hockey club, so when government guidelines allowed it, we would have some hockey training sessions. From the few sessions we had, it was so nice to be able to socialize with some new people and play some hockey together. I would definitely recommend signing up to a sports team or society to meet new people and break up your days, whether you're new to the sport or at an advanced level, the university has something to offer for everyone.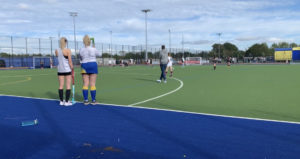 Having had some free time I would go back to my room or go to the library to get some more work done. One of the perks of online lectures meant I could rewatch them at my own speed and fully understand the material.
If I was done with work for the day or didn't feel like doing much more work I would go to the kitchen with my friends. Sometimes we would even do some baking for all our flat mates to enjoy. It's so important to have some time to relax, whether that's baking, watching tv or chatting with friends. After a long day of work I would then go and cook some dinner or if we were being lazy we would order a takeaway. I would then facetime my friends and family back home and watch some TV. One of the good things about the campus at Bath is the lake with the ducks in it. My friends and I would often go down there to see the ducks and feed them some duck friendly food which was a nice way to end the day.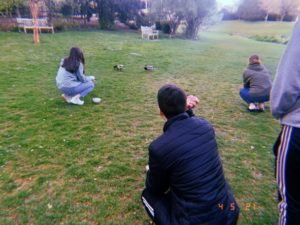 If it was a party night, we would get together in the kitchen, have some drinks and play some music. As lockdown restrictions lifted towards the end of the year we were going into town during the evening, going to some of the restaurants and living the student life! On campus there were also things to do at the SU, including cocktail night, quiz night and my favourite, 2 for 1 gin night! We also had the marquee at Lime Tree which gave us a space to go for some drinks and get out the flat.