Being in a new environment has always fascinated me as a child. To me, the curiosity of the unknown and the anticipation of what lies ahead are the most exciting parts of life. As the coach climbs further and further uphill, these were the feelings that ran through my veins.
My story
I first set foot in the UK more than five years ago. As a thirteen-year-old kid, my impression of England was made up entirely of the navy and red and white colours of the British flag, and the infamous high-tea society of British culture. Having been brought up in China my entire life, it was so unlike anything I had known before.
I had no idea of how much my perspective and opinion would grow and change over the next five years, and how this experience would change me as a person. Now, I was starting my new adventure as an old returning international student in the UK, and a brand new university student at Bath.
Journey to Bath
The University lies in the east of Bath, a quiet yet quaint city. Though my first impression of the city was based on merely a glance, on the coach when getting picked up from Heathrow, I became drawn to the curvy roads, and irregular structures which make up the streets of Bath, so unlike anywhere else I've ever lived. As the coach drove further away from the city centre, towards the campus, I was also in awe of the natural beauty of the landscape of the woods, in different shades of green, in view once we were on top of the hill.
It was also slightly foggy that day as if a half-translucent filter was placed in front of our eyes, changing the view with every movement. After thirty-six hours of travel, looking down from the higher-up perspective of the coach, I felt like I was on top of the world. It was a pity that my phone ran out of charge after the excessively long journey, however, I wasn't upset as I knew I would have an infinitive amount of chances to experience this once more.
Why Bath?
Due to Covid, I had not been able to travel to the University or to the city of Bath prior to my arrival. My impression of the University was established entirely from an academic point of view. It was such a shame as I had been told by many friends and family that it is such a beautiful city, great for both tourism and studies. Despite these regrets, it has simply made the reveal more exhilarating. Bath has definitely not let me down.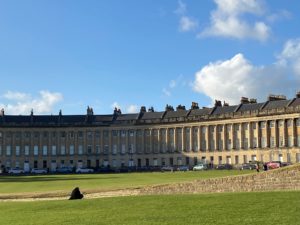 I applied to Bath for its notable reputation for my chosen course and its student satisfaction rate. It was one of my top choices for university and having gained my offer in November, I felt a great sense of achievement and was ecstatic for having been given such huge approval. This had definitely been a driving force that motivated me throughout the school year to work hard and keep up with my A levels, regardless of the disruptions of the pandemic.
First week
After nearly a week of quarantine, I was finally able to explore the campus as much as I wanted. Even though it was not the first time I've been away from home, I was still indulged in the newfound freedom which going to university brings. Being able to dictate every part of my life is so desirable for someone who had just dipped her toes into adulthood. This is something that is completely different from life in a boarding school.
Freedom does come with its ups and downs though. I've had to learn to become more responsible and organised in all aspects of my life, including figuring out what to do when getting locked out of my own room multiple times. Despite the downs, my first week at Bath was exciting and wonderful, and I cannot wait for what's to come.