It's almost time to leave for the airport. You check your handbag for the essential documents – passport, BRP, a negative PCR report, and your flight ticket printout. To me, emerging out of London Heathrow Airport with all my luggage and sanity intact is nothing short of a victory. I have had several metaphorical near-death experiences at the airport, and nothing pleases me more than sharing them by writing a blog (and making money) about them.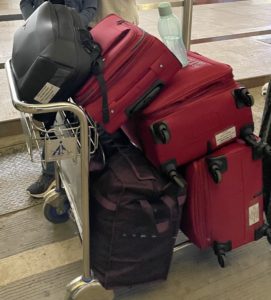 When I first travelled to Bath from India, little did I know of the pitfalls of the three suitcases allowance perk most airlines offer to first-time international students. Now, that – that is 69 kgs of luggage to handle after you grab the bags from the baggage collection point right until you make it to university. Okay, that isn't much of a problem if you're a gym junkie who bench-presses more weight than that.
But if you're someone like me with slender hands and a low tolerance when it comes to weight-lifting, it is highly recommended you don't pack as if you're moving to Mars in the event of an impending apocalypse (which is what I tell my mother now when she forces me to take several Indian snacks and spices with me).
When checking in my luggage at the counter, despite the three-bag allowance, my bags were overweight by 8 kgs. The rule at my hometown Ahmedabad's International Airport is that if your bag exceeds the weight allowance limit by anything between 1 and 9 kgs, you are required to pay 8000 Indian rupees (80 pounds) to get it checked in.
To avoid shelling out that much money for bags that'll end up bothering you endlessly while transferring your bags at the Bath Bus Station and dragging them along all the way to your accommodation on campus, it is imperative that you plan out what you carry from home carefully. If you are arriving on campus on one of the university coaches, make sure you read the fine print – they clearly specify allowing only 2 check-in bags per student. Thus, no matter how you're reaching the campus, it is wise to only get what you can't get in the UK at the same or a better price.
The first thing you need to know is – don't carry cutlery. Your family might think you need to buy pans, mugs, and even glasses for university since it is a commonly held belief that they will be very expensive abroad. However, this is nothing but a misconception. In fact, you can get Amazon to deliver sets of cutlery and utensils for cheap. You can also get Amazon Prime for free during the first year of university and have everything delivered to you the very next day!
It'll save you the hassle of having to pay for carrying extra baggage. Not only this but there are also student kit providers like Noah which supplies kitchen, bedding and bathroom essentials in one box under 250 pounds with free delivery and an additional UniDays student discount. Further, they offer an international kit so that you don't even need to pack international adapters and a rice cooker. Here is the link to Noah's international student starter kit. Now I hope that saves you one full bag I wish I hadn't packed!
If you're worried that you won't be able to get Indian spices like "garam masala" and other Indian staples like moong daal and lentils in the UK, you shouldn't be because you can get almost everything at either the campus grocery store Fresh or the Lebanese store "Perfecto" near Bath College down in the city. In fact, there is a dedicated Indian section at Fresh where you can get ready to eat Indian Chapattis.
I'd recommend you only get certain food items if you're concerned about the brand you usually use and love. You should also check the prices for things you are thinking of buying here on Amazon UK so that if they're significantly more expensive here and you have some space, you can save some money by bringing them. For example, traditional Indian Chai like Tata Gold tea sells at an extravagant price, and you should stock up on that instead of things you might as well buy in the UK.
Making it through solo international travel unscathed requires a lot of organization and planning – especially when there are  tears rolling down your cheeks after saying goodbye to the people you love have barely dried up.  I've learnt that the hard way.
Make sure that you fit all your cables, hard drives, and power banks in a separate bag so that you only need to take that out at security and later safely secure it after coming out the other end. Be sure not to wear something metallic like expensive watches and jewellery that will just become another thing you will have to take off and worry about losing. Should you bring a purse with you, check that it has a zip that secures the items in place since there's a chance it might be tossed around at security.
These things might appear to be trivial and obvious when you're eighteen and leaving your family for the first time but you should try to be more careful about your belongings in the event of an unforeseen moment of panic. On that note, ensure that you keep the minimum number of things in your hands so as not to misplace them.
When I arrived at London Heathrow Airport, the line for the immigration check had me waiting for two hours followed by one of my bags turning up an hour late at baggage collection. Inevitably, I missed my coach ride to Bath Bus Station.
So, if you're booking a National Express coach, buy a fully flexible ticket so that you can get on a later coach in case you have any trouble finding your luggage or are waiting in a long queue at immigration or both. If you don't want to pay extra for the fully flexible ticket, I'd suggest you give yourself four hours past your flight arrival time, especially if you're arriving early in the morning and want to give yourself time to freshen up and grab some breakfast at Costa.
Once you safely make it outside the airport, the cold air of London hits your face if you are used to the Indian heat. Although it is better to buy your jacket in the UK (which is preferably lined with down feathers), carry a change of warm clothes or a jacket just for your journey from Heathrow to Bath.
If you're taking a National Express Coach, you will get off at Bath Bus Station and will have to transfer your bags to the U1 or book a taxi to the University. When I reached Bath Bus Station, I tried booking an Uber assuming they would let me keep my luggage in the car (I don't know if they do, but somehow the transactions with my foreign currency card weren't going through). I don't know why it happened to me but in the event of you going through the same difficulty, you'll have to switch to the U1 bus which takes you to the campus bus stop which is a 15-minute walk (without your baggage) to the West Accommodation Centre.
Initially, I was apprehensive about transferring my luggage onto the bus and then walking with three heavy bags to Polden (I write this anticipating some eye-rolls), but I came across kind people along the way who helped me transfer my bags onto the bus and off the bus as well. On my way to the West side of the campus, I had almost given up as the bags kept falling from my hands when a couple of girls saw me struggle and were generous enough to walk all the way to Polden, each dragging one of my bags.
Once you've reached your home safely after bearing in mind all of the above things, nothing surpasses the feeling of jumping into your bed knowing you have both your belongings and sanity intact!